AirTAC PSL Series 90 Deg Elbow Speed Controller
PSL803A AirTAC PSL Series 90 Deg Elbow Speed Controller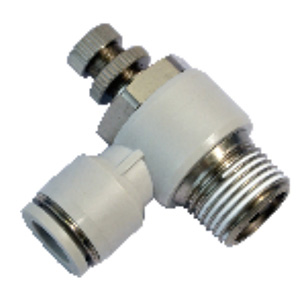 Product Type:

Speed Controller

Case Color:

Gray

CONTROLLERSPortConnections:

3/8 PT Port x 8 mm O.D. Tube Push Port
AirTAC PSL Series 90 Deg Elbow Speed Controller, 0 to 1200 LPM, 3/8 PT Port x 8 mm O.D. Tube Push Port, Meter-Out, Gray.
Product Description
Series Features
The silencer is small size, and light weight with small installation space.
Excellent flow charatentics, high sensitivity and easy to adjust.
The silencer brass body adopts a special nickel-plating process, which has good corrosion resistance and anti-pollution property.
Anti-drop structure is designed on the regulating rod.
The sealant being coated on threaded portion can ensure no leakage of the threaded connection part.
The inserting direction of universal speed controller can be adjusted in 360°.
Dimensions Drawing