TURCK PT1 Series Pressure Transmitter w/o Display
PT5000PSIG-13-LI3-H1131 TURCK PT1 Series Pressure Transmitter w/o Display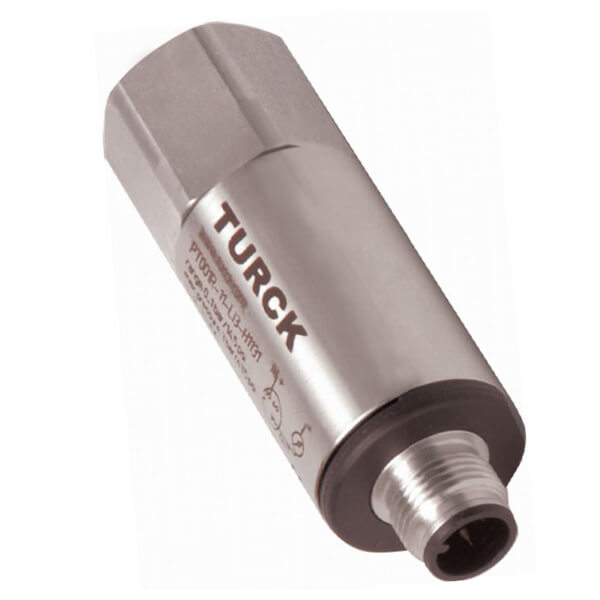 Product Type:

Pressure Transmitter

Connection Size 1:

M12

Connection Type 1:

Male

Current Output:

4-20mA

Fluid Connection Size 1:

43104

Fluid Connection Type 1:

MPT

Operating Voltage:

9-33VDC

Pin Type:

3-pin

Pressure:

Relative

Pressure Range:

0-5000psig

Protection Rating:

IP67
PT5000PSIG-13-LI3-H1131 TURCK PT1 Series, Pressure Transmitter without display, relative pressure, 0 to 5000 psig, 4-20 mA, 2-wire, M12x1 4-pole connection electrical 3-pin conn, 1/4 MPT fluid conn, 9-33VDC operating voltage, SCP and reverse polarity protection, IP67.
Browse All PS300 Series Products
Product Description
The pressure transmitters of the PT…-1 series operate with piezo-resistive ceramic measuring cells. The ceramic diaphragm is unbalanced in proportion to the pressure applied. Depending on the sensor type used, the processed signal is provided as an analog output signal 4…20mA (2-wire) or 0…10V (3-wire).
• Compact and robust design
• Pressure connection with integrated peak pressure aperture
• Minimum influence of temperature on accuracy within the entire temperature range of -40…+125°C
• Excellent EMC properties
• Pressure range 0…5000 psi rel.
Dimension Drawing