Parker Veriflo QR4000 High Purity High Pressure Non-Tied Diaphragm Regulator
QR4001SK2PFSMM Parker Veriflo QR4000 High Purity High Pressure Non-Tied Diaphragm Regulator
In Stock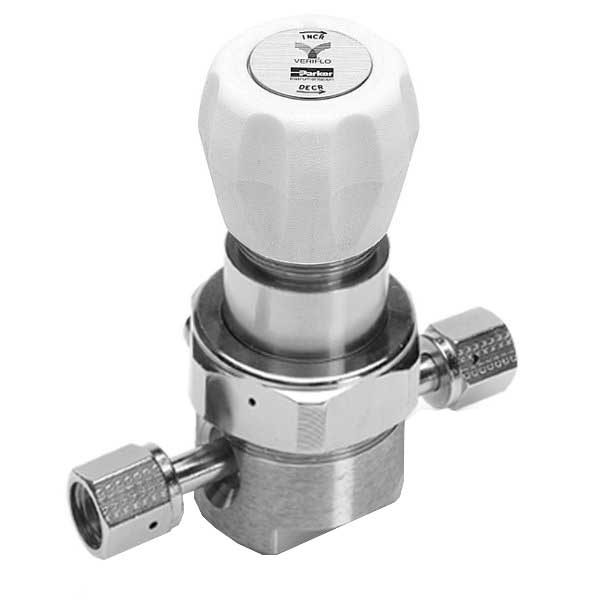 Product Type:

High Pressure Regulator

Max. Outlet Pressure:

30 PSIG

Port 2 Size:

1/4 in.

Port 2 Type:

Face Seal Male (Swivel)

Port Type:

Face Seal Male (Swivel)

Refine Search:

High Purity

Port Size:

1/4 in.
Parker Veriflo QR4000 High Purity High Pressure Non-Tied Diaphragm Regulator, 2 ports, 316L SS body, 4000 psig max. inlet press., 30 psig max. outlet press., non-tied Hastelloy C-22 diaphragm, no outlet gauge, no inlet gauge, PCTFE seat, 2P port config: 1/4" face seal male (swivel) all ports
Product Description
The Parker Veriflo QR4000 Series high purity high pressure, non-tied diaphragm regulator utilizes a metal-to-metal diaphragm seal which provides enhanced leak integrity. The QR4000 features a unique patented compression member that loads the seal to the body without requiring a threaded nozzle or additional seals to atmosphere. This regulator has an internally threadless nozzle assembly.
High purity 316L SS or Hastelloy C-22 body
Choice of seat materials for media and temperature compatibility
Internally threadless nozzle assembly
Minimal particle generation and entrapment
Dimension Drawing