Datalogic Distance Sensor
S65-PA-5-M13-OO Datalogic Distance Sensor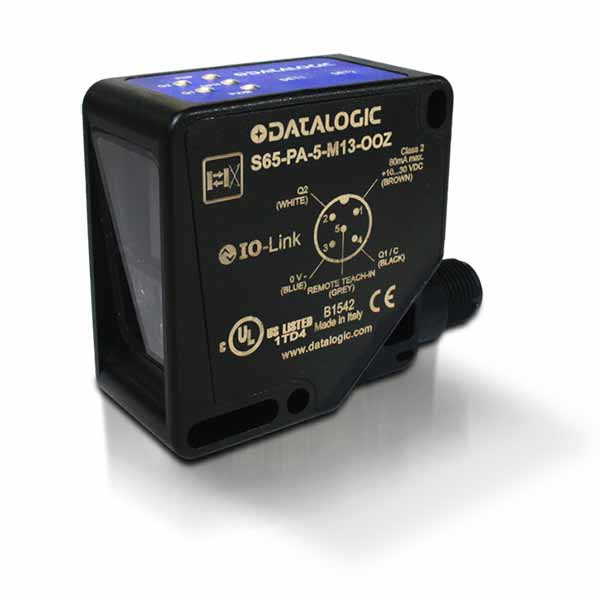 Product Type:

Distance Sensor

Connection Size 1:

M12 - 5 pole

Dimensions:

50 x 50 x 24mm

Housing Material:

ABS

Indicator:

LED

Lens Material:

Glass

Max. Input Power:

2.2W (exlcluding any loads)

Max. Operating Temperature:

131 F

Min. Operating Temperature:

5 F

Output Type:

Two independent fully programmable outputs (NPN/PNP)

Protection Rating:

IP67

Response Time:

8.5 ms max

Supply Voltage Range:

24 VDC +/- 20%

Weight:

0.11 lb

Refine Search:

Sensors
S65-PA-5-M13-OO Datalogic Distance Sensor, 24VDC +/- 20% supply voltage, long range background suppression detection up to 5m w/Time of Flight technology, Two independent fully programmable outputs (NPN/PNP), M12 - 5 pole connector, ABS housing, IP67
Product Description
S65-PA-5-M13-OO S65-M is the new Long Range Background Suppressor based on light Time Of Flight technology. The S65-M can easily detect objects at a distance up to 5 m and is ideal for precise and reliable detection applications. Innovative System On Chip technology and risk-free Infrared LED emission deliver valuable cost and safety advantages when compared to laser products. Sensor alignment is quick and easy with the embedded green LED pointer.

The S65-M user interface is simple and intuitive. Product connectivity is flexible and complete with two user configurable outputs driving PNP or NPN loads; models with IO-Link V1.1 connection are also available.

The rugged and compact 50 x 50 x 24 mm housing with IP67 protection makes the S65-M the ideal product for Automated Warehouses, Palletizers, Automotive, Transport & Logistic, Packaging applications and Conveyor Lines.
Dimension Drawing