Seametrics Single Jet Low Flow Meter
SPT-050-68 Seametrics Single Jet Low Flow Meter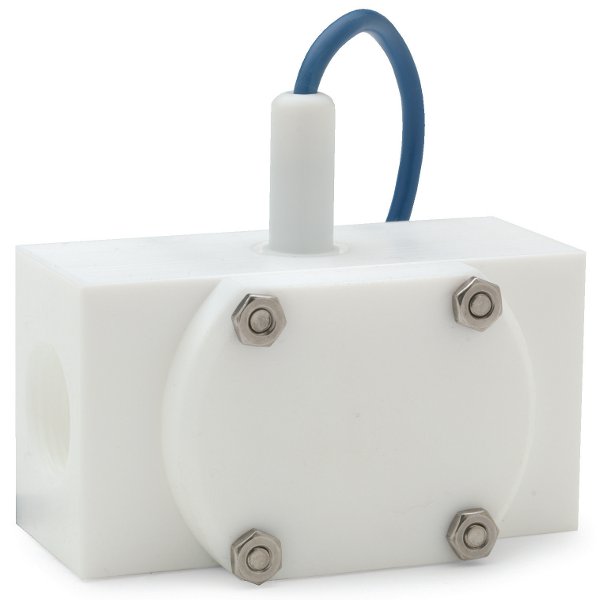 Product Type:

Low Flow Meter

Cable Length:

18 ft.

Dimensions:

4.10 x 2.20 x 2.25 in.

Flow Range:

0.1 - 10 gpm

Max. Pressure:

150 PSIG

Max. Temperature:

180°F

Power Type:

5 - 24 VDC 2 mA

Shaft Option:

Optional silicon carbide shaft
Seametrics SPT-Series Single Jet Low Flow Meter, 4.10 x 2.20 x 2.25 inches, 1/2 FPT, TFE Teflon body, optional silicon carbide shaft, 18 ft sensor cable, 0.1-10 gpm, 150 psig@180 deg F, 5-24 VDC 2.0 mA, 6-24VDC current sinking pulse output.
Product Description
S-SERIES
SPT, SPX Low Flow Meters

FEATURES
Accurate at low flows
Simple and durable
Compatible with a variety of chemicals
Visual flow monitoring (SPX Only)
General Information
These versatile impeller flowmeters are availalble in 3/8", 1/2", 3/4", and 1" nominal pipe sizes with female NPT threads. They employ jewel bearings to allow for very low minimum flow rates and superior life.With a body material of polypropylene, the SPX is an economical choice for metering water or low corrosion fluids. The lens cover is available in a choice of materials: acrylic for visual flow indica¬tion of low-corrosion fluids; polypropylene when more corrosion resistance is needed. The standard rotor assembly is Kynar with tungsten carbide shaft. The O-ring is EPDM.The SPT offers greater chemical resistance with a Teflon body and cover, Teflon-coated Viton O-ring, and standard Kynar/ceramic rotor assembly. The pulse output of these meters is compatible with many dif¬ferent types of controls, including a full range of Seametrics rate displays and controls. The Seametrics FT420 provides flow rate and total flow indication, with 4-20 mA output capability. The FT415 is a battery-operated rate & total display. For metering pump pacing or interfacing with lowspeed counters, the PD10 pulse divider is recommended. The AO55 may be used for blind 4-20mA transmission.
Dimension Drawing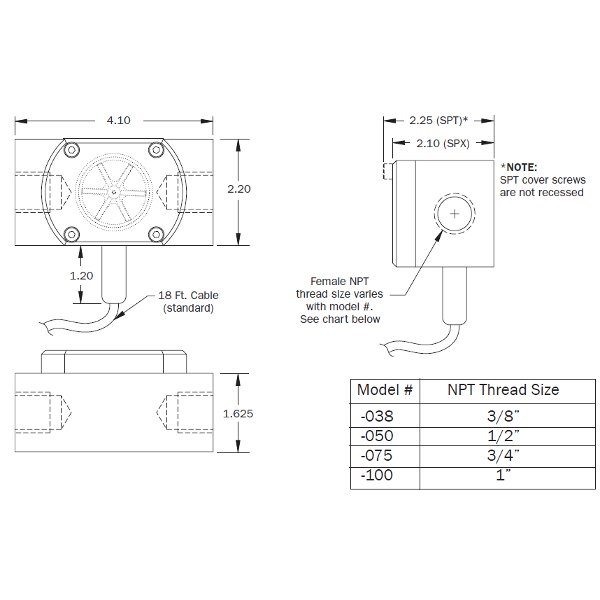 Product Series/Models