Fairchild Electro-Pneumatic Transducer
Fairchild Electro-Pneumatic Transducer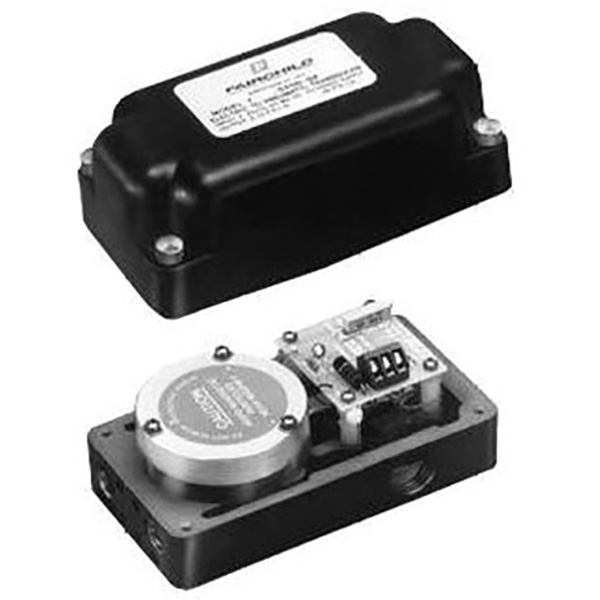 Product Type:

Electro-Pneumatic Transducer

Manufacturer:

Fairchild

Product Family:

Model T5200

Accuracy:

+0.25% Full Scale

Applicable Standard:

ISO 9001, CE

Body Material:

Aluminum

Output Signal:

3 - 15 PSIG

Accuracy:

+0.25% Full Scale

Air Capacity:

0.16 SCFM

Air Connection:

1/4 in. Female Threaded x 1/2 in. Female Threaded

Air Flow Rate:

0.15 SCFM

Applicable Standard:

ISO 9001, CE

Application:

Automotive, Chemical

Body Material:

Aluminum

Dimensions:

5-1/2 in. W x 3 in. Diam. x 3-3/8 in. H

Input Signal:

1 to 5 VDC

Mounting Method:

Valve Mount

Output Signal:

3 - 15 PSIG

Pressure Rating:

20 + 2 PSIG

Temperature Rating:

-40 to 150 Deg F (Ambient)
Fairchild Model T5200 Electro-Pneumatic Transducer, 1/4" x 1/2", FPT x FPT, 1 to 5 VDC Input, 3 to 15 PSIG Output, 0.15 SCFM, Aluminum, Voltage to Pressure, Electro-Pneumatic Transducer.
Product Description
Electro-Pneumatic Transducer; Type Voltage to Pressure; Input Signal 1 to 5 Volt DC; Output Signal 3 to 15 PSIG; Air Connection 1/4 Inch Female Threaded x 1/2 Inch Female Threaded; Air Flow Rate 0.15 SCFM; Air Capacity 0.16 SCFM; Accuracy +0.25 Percent Full Scale; Overall Dimensions 5-1/2 Inch Width x 3 Inch Depth x 3-3/8 Inch Height; Body Material Aluminum; Mounting Type Valve Mount; Temperature Rating -40 to 150 Deg F (Ambient); Pressure Rating 20 + 2 PSIG; Inclusions/Features Sapphire/Brass Ball and Orifice, Stainless Steel Nozzle, Fiberglass PC Board; Application Chemical, Automotive; Applicable Standard CE, ISO 9001; Impedance 375 Ohm; With Voice Coil Technology
Features
Fast Response to Input Signal Changes Results in Faster Loop Control and Savings in Process Materials; Minimal Air Consumption Allows Use in Systems where Operating Gas is Expensive; Five Input Signal Ranges Meet Most Process and Machine Requirements; Temperature Compensation Provides Stable Operation Over Wide Temperature Range; Compact Size Permits Use in Space Restricted Areas; Vibration Resistance Maintains Setpoints Under Adverse Vibration Conditions; Various Mounting Configurations Allow Installation Flexibility for Most Applications
Series/Model Info
Fast Response E/P, I/P Pressure Transducers (T5200) Rotork Fairchild's T5200 Transducer is a Fast Response I/P, E/P Transducer. With its reliable signal conversion and pneumatic circuit sections, the T5200 I/P Transducer provides fast response to input signal changes, resulting in faster loop control and savings in process materials.