Fairchild Electro-Pneumatic Transducer
Fairchild Electro-Pneumatic Transducer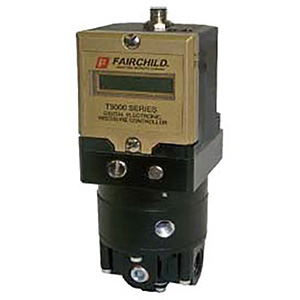 Product Type:

Electro-Pneumatic Transducer

Manufacturer:

Fairchild

Product Family:

Model T9000

Accuracy:

Less than 0.5% Output Span

Applicable Standard:

CE, ISO 9001, UL

Body Material:

Epoxy Coated Polymer/Chromate Treated Aluminum

Output Signal:

0 - 1000 kPa

Voltage Rating:

24 VDC

Accuracy:

Less than 0.5% Output Span

Action Type:

Reversible

Air Connection:

1/2 in. BSPT Threaded x 1/2 in. BSPT Threaded

Air Flow Rate:

90 SCFM at 1000 kPa Supply (Forward)

Applicable Standard:

CE, ISO 9001, UL

Application:

Automotive, Pulp and Paper, Chemical

Body Material:

Epoxy Coated Polymer/Chromate Treated Aluminum

Dimensions:

4.25 in. W x 3.62 in. Diam. x 6.41 in. H

Input Signal:

0 to 10 VDC

Mounting Method:

Wall/Panel Mount

Output Signal:

0 - 1000 kPa

Pressure Rating:

1400 kPa

Temperature Rating:

0 to 160 Deg F

Voltage Rating:

24 VDC
Fairchild Model T9000 Electro-Pneumatic Transducer, 1/2" BSPT, 0 to 10 VDC Input, 0 to 1000 kPa Output, 90 SCFM at 1000 kPa Supply, Epoxy Coated Polymer/Chromate Treated Aluminum, Nitrile Diaphragm, Reverse, Voltage to Pressure, High Flow, Digital, Electro-Pneumatic Transducer.
Product Description
Electro-Pneumatic Transducer; Type Voltage to Pressure, High Flow, Digital; Action Type Reversible; Input Signal 0 to 10 Volt DC; Output Signal 0 to 1000 Kilopascal; Air Connection 1/2 Inch BSPT Threaded x 1/2 Inch BSPT Threaded; Voltage Rating 24 Volt DC; Air Flow Rate 90 SCFM at 1000 Kilopascal Supply (Forward); Accuracy Less than 0.5 Percent Output Span; Overall Dimensions 4.25 Inch Width x 3.62 Inch Depth x 6.41 Inch Height; Body Material Epoxy Coated Polymer/Chromate Treated Aluminum; Mounting Type Wall/Panel Mount; Temperature Rating 0 to 160 Deg F; Pressure Rating 1400 Kilopascal; Inclusions/Features Zinc Plated Steel Trim, Keypad and Display, Backlit Liquid Crystal Display Screen, 19634-3 (or 19634-4 for Metric Thread) Mounting Kit; Application Chemical, Pulp and Paper, Automotive; Applicable Standard UL, CE, ISO 9001; Diaphragm Material Nitrile; Minimum Span 400 Kilopascal; Exhaust Capacity 45 SCFM at 400 Kilopascal Downstream Pressure; Power Failure Mode Freeze (Maintains Setpoint); Exhaust Port Tapped; Power Consumption Less than 5 Watt; Impedance 400 Ohm (Minimum); Enclosure NEMA 4/IP65; With Feed and Bleed Technology
Features
Fully Functional Keypad and Display; Backlit Liquid Crystal Display Screen; Output Pressure Displays in PSIG, Bar, Kilopascal or User-Defined Pressure Units; Independently Adjustable PID Tuning Coefficients; Reverse Acting Capability for Analog Input and Output Signals; Select Current or Voltage Mode for Input Signal or Optional Analog Channels Using the Keypad; RFI/EMI Protection Eliminates Electromagnetic and Radio Interference; High Flow Capacity; Fast and Responsive System Operation; Versatile and User Friendly Operation; Provides Output Directly or Inversely Proportional to Input Signal; Easily Adapts to Your Application Parameters; Easy to Install and Calibrate; User Friendly Control Package; Easy to Set up in any Location
Series/Model Info
The Fairchild T9000 Series Electro-Pneumatic Pressure Controller has a closed-loop, integrated, microprocessor control system that regulates outlet pressure. The Model T9000 controls pressure in proportion to an analog electrical input signal. An internal feedback sensor monitors output pressure to achieve high accuracy. You can control the output from the Model T9000 using the keypad or from an analog control signal. The Model T9000 Series Electronic Pressure Controllers use feed and bleed solenoid valve control technology, digital feedback electronic control, and an internal electronic pressure sensor to achieve high accuracy pressure control. Keypad and display with intuitive detailed menu with flexible configuration and PID tuning capability ensure that these pressure controllers can meet the most demanding air pressure control applications. Commissioning, quality control, and troubleshooting functions are made easy using the T9000's numerous input and output monitoring features.