Fairchild Products Electro-Pneumatic Transducer
TEXI7800-401U Fairchild Products Electro-Pneumatic Transducer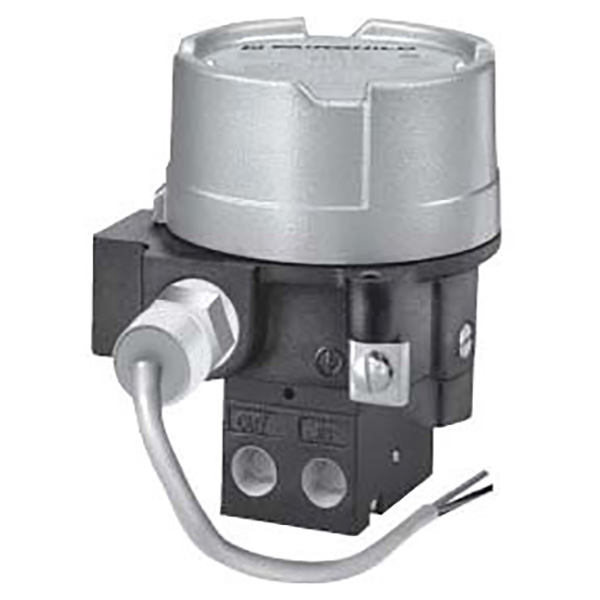 Product Type:

Electro-Pneumatic Transducer

Accuracy:

0.25% Full Scale Guaranteed, 0.15% Full Scale Typical

Accuracy:

0.25% Full Scale Guaranteed, 0.15% Full Scale Typical

Action Type:

Reversible

Air Connection:

1/4 in. BSPP Threaded (Inlet/Outlet)

Air Flow Rate:

9 SCFM at 120 PSIG

Applicable Standard:

Class I Div 1 Group B/C/D, Class I Div 2 Group A/B/C/D, Class II Div 1 Group E/F/G, Class III Div 1 Fiber, FM

Applicable Standard:

Class I Div 1 Group B/C/D, Class I Div 2 Group A/B/C/D, Class II Div 1 Group E/F/G, Class III Div 1 Fiber, FM

Application:

Indoor/Outdoor

Body Material:

Epoxy Powder Coated Chromate Treated Aluminum

Body Material:

Epoxy Powder Coated Chromate Treated Aluminum

Dimensions:

3-11/16 in. W x 3-13/16 in. Diam. x 4-5/8 in. H

Input Signal:

4 to 20 mA DC

Mounting Method:

(2) 1/4 in.-20 UNC

Output Signal:

3 - 15 PSIG

Output Signal:

3 - 15 PSIG

Pressure Rating:

20 to 120 PSIG

Temperature Rating:

-40 to 160 Deg F
Fairchild Model TXI7800 Electro-Pneumatic Transducer, 1/4" BSPP, 4 to 20 mA Input, 3 to 15 PSIG Output, 9 SCFM, 1/4"-20 UNC, Reversible, FM Approved, Explosionproof, Current to Pressure, Electro-Pneumatic Transducer.
Browse All Model TXI7800 Products
Product Description
Electro-Pneumatic Transducer; Type Current to Pressure; Action Type Reversible; Input Signal 4 to 20 Milliamp DC; Output Signal 3 to 15 PSIG; Air Connection 1/4 Inch BSPP Threaded (Inlet/Outlet); Air Flow Rate 9 SCFM at 120 PSIG; Accuracy 0.25 Percent Full Scale Guaranteed, 0.15 Percent Full Scale Typical; Overall Dimensions 3-11/16 Inch Width x 3-13/16 Inch Depth x 4-5/8 Inch Height; Body Material Epoxy Powder Coated Chromate Treated Aluminum; Mounting Type (2) 1/4 Inch-20 UNC; Temperature Rating -40 to 160 Deg F; Pressure Rating 20 to 120 PSIG; Inclusions/Features Nickel Plated Brass and Sapphire Orifice, Stainless Steel and Zinc Plated Steel Trim, Nitrile Elastomer; Application Indoor/Outdoor; Applicable Standard FM, Class I Div 1 Group B/C/D, Class II Div 1 Group E/F/G, Class III Div 1 Fiber, Class I Div 2 Group A/B/C/D; ROHS Compliant; Minimum Span 5 PSIG; Hysteresis and Repeatability 0.1 Percent Full Scale; Enclosure NEMA 4X, IP65; Approval Class Explosionproof
Features
Accuracy as Low as 0.15 Percent; Field Selectable Outputs in 3-Pressure Ranges; Field Reversible Feature; Does Not Contain Copper-Based Metals; Explosionproof NEMA 4X, IP65, Type 4 Enclosure; Tremendous Versatility for Application Design; High Precision Reliable Operation; Easily Matches Final Control Element Requirements; Provides Output Directly or Inversely Proportional to Input Signal; Designed for Use with Natural Gas and Corrosive Media; Approved for Use with Natural Gas or Industrial Methane the Supply Media; Allows for Outdoor and Indoor Installations; May be Used in All Territories and Provinces; Carries Global Approval for Intrinsic Safety and Hazardous Location Operation
Series/Model Info
Designed for use in hazardous environments, the Fairchild TXI7800 series product is an Explosionproof I/P pressure transducer. It operates under the same principles as the T7800 product; however the TXI series includes NEMA 4X Explosionproof construction. Our design isolates the electronics chamber from the pneumatic section, thereby creating a safer and longer service life product, especially for applications handling natural gas. In the Extended Range units, the TXI7800 series will also deliver up to 0-120 psi [0-8.0 BAR], (0-800 kPa) output. The TXI7800 series is approved for hazardous use and carries FM. CSA, ATEX and IECEx approvals.