Fairchild Electro-Pneumatic Transducer
Fairchild Electro-Pneumatic Transducer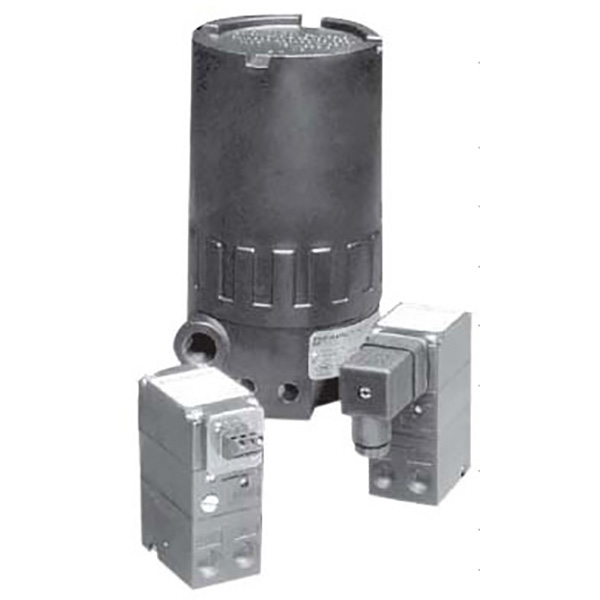 Product Type:

Electro-Pneumatic Transducer

Manufacturer:

Fairchild

Product Family:

Model T6000

Accuracy:

+/-1% Full Scale

Applicable Standard:

ISO 9001, CE

Body Material:

Aluminum

Output Signal:

0 - 800 kPa

Accuracy:

+/-1% Full Scale

Action Type:

Field Reversible

Air Capacity:

17 SCFH

Air Connection:

1/4 in. BSPT Threaded x 1/4 in. BSPT Threaded

Air Flow Rate:

11 SCFM at 1000 kPa Supply and 60 kPa Output

Applicable Standard:

ISO 9001, CE

Application:

Automotive, Chemical, Food and Beverage, Industrial Automation, Medical/Biotech, Pharmaceutical, Pulp and Paper, Textile Manufacturing, Oil and Gas

Body Material:

Aluminum

Dimensions:

1-33/64 in. W x 3-3/32 in. Diam. x 5-11/64 in. H

Electrical Connection:

Terminal Block

Input Signal:

0 to 10 VDC

Mounting Method:

(2) #10-32 TPI Screw

Output Signal:

0 - 800 kPa

Pressure Rating:

880 to 1000 kPa

Temperature Rating:

-20 to 150 Deg F

Used On Model/Brand:

Terminal Block
Fairchild Model T6000 Electro-Pneumatic Transducer, 1/4" BSPT, 0 to 10 VDC Input, 0 to 800 kPa Output, 11 SCFM at 1000 kPa Supply, Aluminum, Nitrile Diaphragm, Terminal Block Connection, Field Reversible, Extended Range, Voltage to Pressure, Electro-Pneumatic Transducer.
Product Description
Electro-Pneumatic Transducer; Type Voltage to Pressure, Extended Range; Action Type Field Reversible; Input Signal 0 to 10 Volt DC; Output Signal 0 to 800 Kilopascal; Air Connection 1/4 Inch BSPT Threaded x 1/4 Inch BSPT Threaded; Electrical Connection Details Terminal Block; Air Flow Rate 11 SCFM at 1000 Kilopascal Supply and 60 Kilopascal Output; Air Capacity 17 SCFH; Accuracy +/-1 Percent Full Scale; Overall Dimensions 1-33/64 Inch Width x 3-3/32 Inch Depth x 5-11/64 Inch Height; Body Material Aluminum; Mounting Type (2) #10-32 TPI Screw; Temperature Rating -20 to 150 Deg F; Pressure Rating 880 to 1000 Kilopascal; Inclusions/Features Nickel Plated Brass Orifice, Zinc Plated Steel Trim, 16799-1 and 16893-1 Mounting Bracket Kit; Application Oil and Gas, Chemical, Pharmaceutical, Industrial Automation, Medical/Biotech, Food and Beverage, Pulp and Paper, Automotive, Textile Manufacturing; Applicable Standard CE, ISO 9001; RoHS Compliant; Diaphragm Material Nitrile; Supply Voltage Type (DC) Signal Powered; Minimum Span 350 Kilopascal; Exhaust Capacity 2 SCFM; Impedance 893 Ohm; With Voice Coil Technology
Features
Field Reversible Feature Provides Output which is Directly or Inversely Proportional to the Input Signal; RFI/EMI Protection Eliminates Susceptibility to Electromagnetic and Radio Interference; Six Output Pressure Ranges Meet Final Control Element Requirements; Six Input Signal Ranges Meet Most Process and Machine Requirements; Compact Size Permits Use in Space Restricted Areas; Input and Output Ports on Both Front and Bottom Simplifies Pneumatic Piping; Permits Use in Space Restricted Areas; Well Suited for Outdoor and Indoor Installations; Simplifies Installation and Pneumatic Piping; RoHS Compliant
Series/Model Info
The T6000 Series is designed for precision applications providing maximum versatility. The modular construction permits any basic unit to be used in the Explosionproof, rack, wall, pipe, panel, DIN rail or 3, 5, 10, or 15 unit manifold configurations. Servicing or calibration is quick and easy.