Fairchild Electro-Pneumatic Transducer
Fairchild Electro-Pneumatic Transducer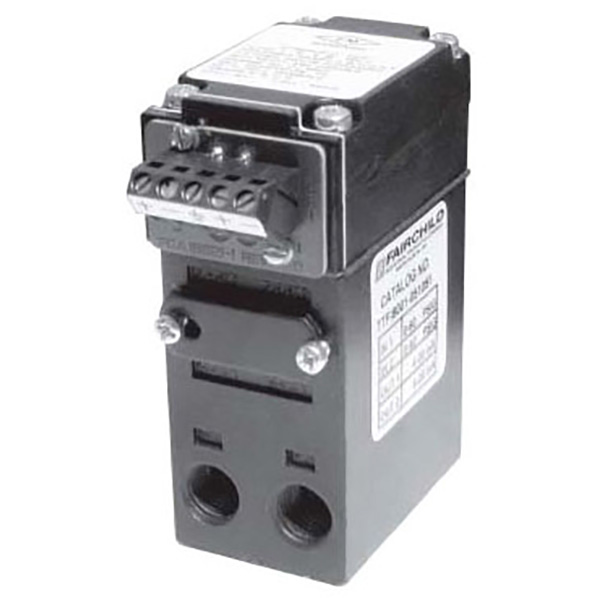 Product Type:

Electro-Pneumatic Transducer

Manufacturer:

Fairchild

Product Family:

Model T8000

Accuracy:

0.25%

Body Material:

Aluminum

Output Signal:

4 - 20 mA

Accuracy:

0.25%

Action Type:

Reversible

Air Connection:

(2) 1/4 in. Female Threaded (Inlet)

Applicable Standard:

Class I Div 1 Group A/B/C/D, Class II Div 1 Group E/F/G, Class III Div 1, FM

Application:

Indoor/Outdoor

Body Material:

Aluminum

Dimensions:

1-33/64 in. W x 3 in. Diam. x 3-11/16 in. H

Electrical Connection:

Terminal Block

Humidity Rating:

95% RH

Input Signal:

0 to 30 PSIG

Output Signal:

4 - 20 mA

Temperature Rating:

-40 to 176 Deg F

Used On Model/Brand:

Terminal Block

Voltage Rating:

12 to 50 VDC
Fairchild Model T8000 Electro-Pneumatic Transducer, 1/4" FPT, 12 to 50 VDC, 0 to 30 PSIG Input, 4 to 20 mA Output, Aluminum, Terminal Block Connection, Reversible, FM Approved, Intrinsically Safe, Miniature 2-Wire, Pressure to Current, Electro-Pneumatic Transducer.
Product Description
Electro-Pneumatic Transducer; Type Pressure to Current, Miniature 2-Wire; Action Type Reversible; Input Signal 0 to 30 PSIG; Output Signal 4 to 20 Milliamp; Air Connection (2) 1/4 Inch Female Threaded (Inlet); Voltage Rating 12 to 50 Volt DC; Electrical Connection Details Terminal Block; Humidity Rating 95 Percent RH; Accuracy 0.25 Percent; Overall Dimensions 1-33/64 Inch Width x 3 Inch Depth x 3-11/16 Inch Height; Body Material Aluminum; Temperature Rating -40 to 176 Deg F; Inclusions/Features 16799-1/16893-1 Mounting Bracket Kit, Stainless Steel/Brass/Zinc Plated Steel Trim, Aluminum/Glass/Ceramic/Delrin/Nitrile/Silicone/RTV/Nickel Wetted Part; Application Indoor/Outdoor; Applicable Standard FM, Class I Div 1 Group A/B/C/D, Class II Div 1 Group E/F/G, Class III Div 1; Output Span 23 to 60 PSIG; Impedance 1900 Ohm at 20 Milliamp; Independent Linearity 0.15 Percent Full Scale; Hysteresis and Repeatability 0.1 Percent Full Scale; Approval Class Intrinsically Safe
Features
Field Reversible Feature; RFI/EMI Protection; Input and Output Ports on Both Front and Rear; Various Mounting and Connection Configurations; Provides Output which is Directly or Inversely Proportional to the Input Signal; Eliminates Susceptibility to Electromagnetic and Radio Interference; Single Unit Covers All Standard Loop Output; Product Handles All Standard Input; Simplified Installation and Pneumatic Piping
Series/Model Info
Our T8000 P/I Transducer Series is a miniature two wire pressure device that converts a pneumatic input signal to a linearly proportional output current. It is field reversible and offers output choices of 4-20 mA or 10-50 mA. The T8000 Series is designed for precision applications providing maximum versatility. The modular construction permits any basic unit to be used in the Explosionproof, rack, wall, pipe, panel, DIN rail or 3, 5, 10, or 15 unit manifold configurations. Servicing or calibration is quick and easy. The Zero and Span adjustments are easily accessible from the front of the unit. The T8000 Series may be configured as a Single or Dual Channel Unit. The Dual Channel Unit consists of two PC Boards that are enclosed within the same housing and function independently of each other. This unit may be offered in any one of the seven standard input pressure signals or in any combination.