Parker Electromechanical 404XR Series Electric Linear Actuators, 450mm, 10mm Ballscrew, Servo
VES-404450XRMS-D3-SV Parker Electromechanical 404XR Series Electric Linear Actuators, 450mm, 10mm Ballscrew, Servo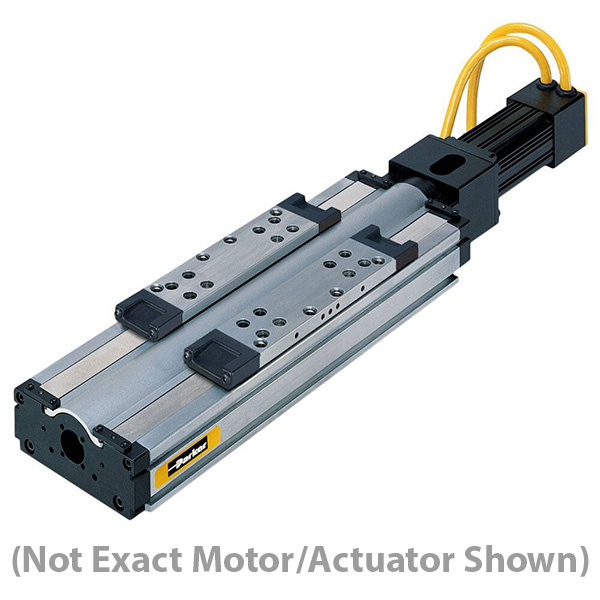 Product Type:

Electric Linear Actuators

Form Factor:

Rodless

Stroke:

450 mm

Repeatability:

+/-3 micron

Peak Speed:

600 mm/s

Normal Load:

170 kg

Axial Force:

880 N

Drive Train:

Ball Screw

Feed Constant:

10 mm Ballscrew

Motor:

Servo

Customizability:

High

Availability:

Short (2-5 weeks)

Price:

$$$
Parker Electromechanical 404XR Series Electric Linear Actuators, 450mm, 10mm Ballscrew, Servo motor, square rail guided, 170 kgs normal load, +/-3 microns repeatability, 600mm/s peak speed. Customizable and many options to select from: sensors, brake, environmental, encoder, etc. Motor may limit the actuator's performance depending upon the application. Sizing calculations need to be performed to ensure performance.
Product Description
The 400XR Series of precision linear mechanics is recognized globally for its consistent performance, high quality, high strength- yet sleek design, and unparalleled versatility. The 404XR series uses high efficiency, precision ballscrews as its drivetrain, and is guided by a single square rail for its bearing support. This square rail provides the stage with high load carrying characteristics relative to its size. These features are all built atop an extruded aluminum base, which is precision machined to ensure excellent straightness and flatness. The 400XR is available in 5 different stroke scalable frame sizes to carry a wide variety of payloads, or to build multi-axis systems configurations upon. The 400 XR has also been designed to accommodate a number of standard enhancements ranging from an integrated shaft brake, mounted high resolution linear encoder, clean room preparation to standard multi-axis brackets. As a result, the 400XR has been applied in a number of high tech applications ranging from the life sciences, electronics manufacturing, and optics. Given the 400XR's robust construction and sealed design it has also been applied to industrial automation applications in packaging, machine tool, and automotive.
Series Features/Benefits:
Frame width of 95 mm
Twelve standard strokes available from 50 to 600 mm
Positional repeatability of +/- 1.3 micron
Maximum velocity of 1200 mm/sec
Integrated high precision ballscrew drivetrain and square rail guidance system
Maximum payload of 1668 N
Maximum thrust of 880 N
Pre-configured options inline and parallel motor mount options
IP30 rating
Integrated purge port
Standard multi-axis systems
Convenient mounting options of tapped or through hole mounting, along with integrated T-slots for toe clamp mounting
High precision, non-contact home or limit sensors that can be positioned along full length of travel
Laser test data with slope correction values with each precision grade stage
Dimension Drawing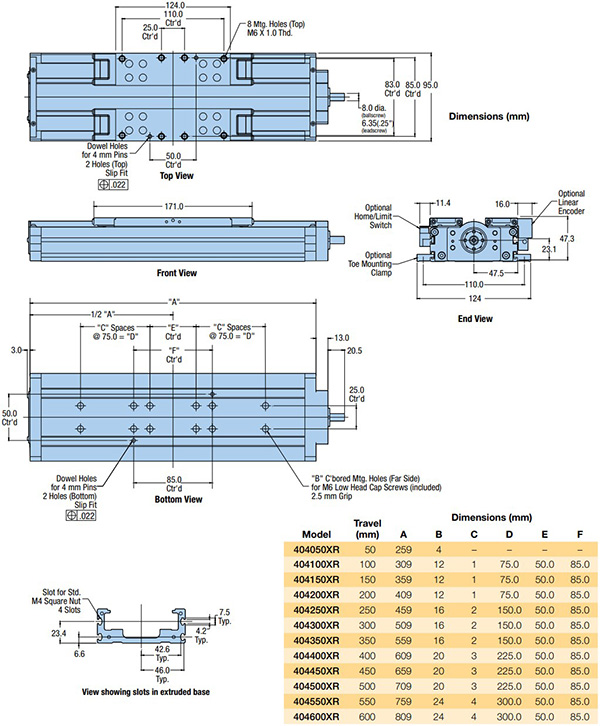 Resources
How Do I Size and Select Electric Linear Actuators
The Motion Control Show provides a crash course of free education online with video courses on topics in industrial electromechanical automation which is great for automation, mechanical and electrical engineers and technicians to reference and fill in gaps in their knowledge.
Virtual Engineer
Virtual Engineer is a new tool where users can easily enter application specifications (ex. speed, load, external forces) and quickly navigate to accurately sized product options.