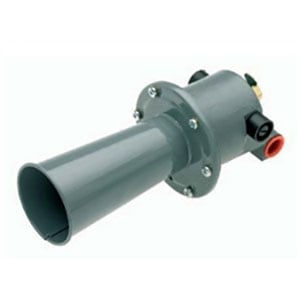 Manufacturer:

Edwards Signaling

Product Family:

Millennium Class

Product Type:

Voice Module Kit

Refine Search:

Safety Parts & Accessories
VOICE-M Edwards Signaling Millennium Class Voice Module Kit.
Product Description
VOICE-M The Millennium Class are heavy-duty industrial, tone-selectable, signaling devices capable of producing volume-controlled, high-decibel tones. Selected models are designed to serially connect to RS485 networks. The 5530MV-485Y6 additionally has a field recordable voice feature that allows activation of voice messages over the RS485 network.
FEATURES
User selectable 55 tone capability - No additional tone modules needed
Output up to 120dB @ 1m (110dB @ 10ft.)
Output up to 123dB @ 1m (113dB @ 10ft.) (5530MHV Series)
Captive components
RS485 models supervised
Diode polarized for supervisory circuits (5530MD-24AW)
Speaker can be rotated and locked in any horizontal direction
24V DC battery backup terminals provided
NEMA Type 3R
UL listed for Class 1, Div. 2, Groups A, B, C and D; Class II, Div. 2, Groups F and G; Class III hazardous locations