Parker Veriflo Pressure Relief Valve
Parker Veriflo Pressure Relief Valve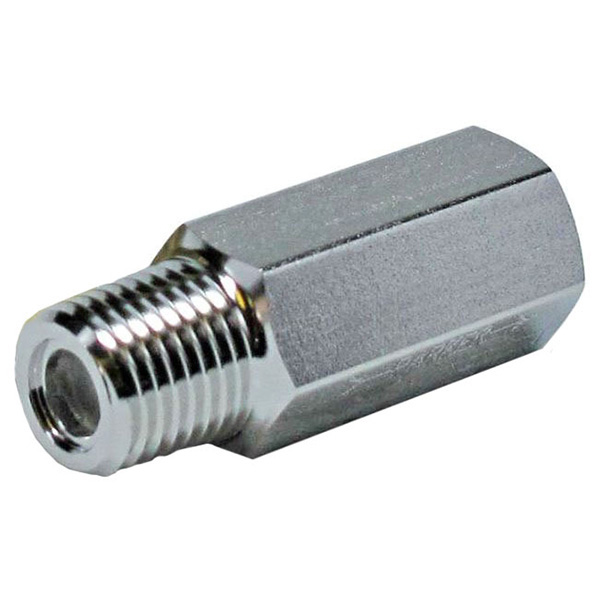 Manufacturer:

Parker Veriflo

Product Family:

VR7 Series

Body Material:

316L Stainless Steel

End Connection:

Female Face Seal x Female Threaded

Inclusions And Features:

PCTFE Poppet, 316 Stainless Steel/Delrin Screw

Inlet Size:

1/4 in.

Outlet Size:

1/4 in.

Pressure Rating:

10 to 20 PSIG, 750 PSIG

Seal Material:

Perfluoroelastomer

Temperature Rating:

-30°F to 400°F

Valve Type:

Adjustable

Application:

Corrosive and Specialty Gas, Gas Sample Preparation, Gas Cabinet, Valve Manifold Box, Upstream Process Line
Parker Veriflo VR7 Pressure Relief Valve, 1/4" x 1/4", Female Face Seal x FPT, 10 to 20 PSIG, 316L Stainless Steel, Perfluoroelastomer Seal, Adjustable, Pressure Relief Valve.
Product Description
Pressure Relief Valve; Type Adjustable; Inlet Size 1/4 Inch; Outlet Size 1/4 Inch; End Connection Female Face Seal x Female Threaded; Body Material 316L Stainless Steel; Seal Material Perfluoroelastomer; Temperature Rating -30 to 400 Deg F; Pressure Rating 10 to 20 PSIG, 750 PSIG; Inclusions/Features PCTFE Poppet, 316 Stainless Steel/Delrin Screw; Application Corrosive and Specialty Gas, Gas Sample Preparation, Gas Cabinet, Valve Manifold Box, Upstream Process Line; Flow Capacity 0.37 Cv,
FEATURES
Provides Protection of Regulators if a Seat Leak Occurs; Hex Body Provides Wrench Flats; Adjustable Pressure Ranges to Meet the Needs of Specific Applications
Series/Model Information
The Parker VR7 Series is a relief valve that's designed to vent excess pressure from a regulator should a minor seat leak occur. This valve serves as a highly economical way of protecting the regulator and outlet pressure gauge and is not intended for applications where repeated or frequent venting is required. It is available in stainless steel or brass. The VR7 Series is suitable for use with both inert and corrosive gases. It is available with variety of connections to ensure compatibility with a broad range of pressure regulators. Seals are available in FKM or FFKM for compatibility with different process media and operating temperature ranges. Pressure ranges of the VR7 Series relief valve are also adjustable to meet the unique requirements of the operation. In situations where gas cannot be vented to atmosphere, the outlet of the relief valve can be connected to an external tubing line.
Dimension Drawing