NK Technologies AC/DC Voltage Transducer
VTU12-420-24U-OS NK Technologies AC/DC Voltage Transducer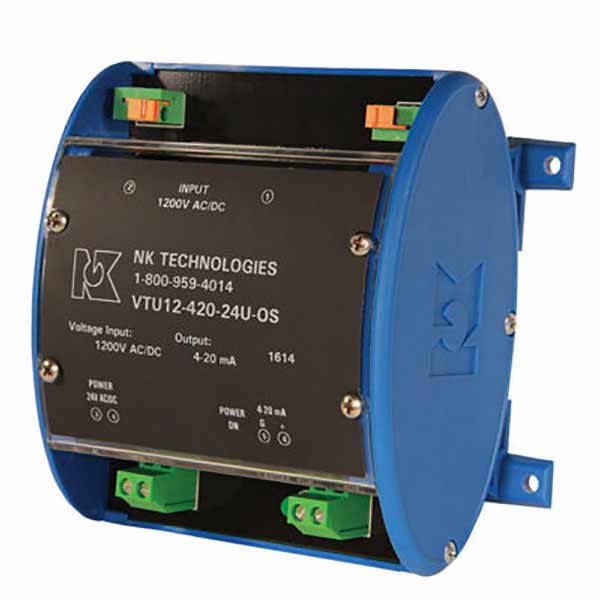 Frequency Range:

0-400Hz

Input Range:

0-1200V

Max. Input Power:

< 2VA

Mounting Method:

DIN rail or panel-mounted

Output Signal:

4-20 mA

Product Type:

Transducer

Refine Search:

Sensor Parts & Accessories

Response Time:

100ms

Safety Agency Approvals:

UL/cUL & CE

Supply Voltage Range:

24VAC/DC
VTU12-420-24U-OS NK Technologies VTU Series AC/DC Voltage Transducer, 24VAC/DC power supply, 0-1200V input range, 4-20mA output signal, 100ms response time, DIN rail or panel-mounted.
Browse All VTU Series Products
Product Description
VTU12-420-24U-OS
VTU Series voltage transducers
provide very high accuracy and safety in a panel or DIN rail mounted housing. One sensor design can measure DC or AC circuit voltages to 1200 volts, and produce an analog signal directly proportional to the voltage connected. A very valuable tool to spot issues with power generation (conventional and alternative sources) like brown outs and phase loss. The voltage will be present on the line side of a disconnect even when the breaker or switch is open.
FEATURES
4–20 mA, 0-5 VDC and 0-10 VDC
Compatible with most automation and control systems
Output proportional to RMS voltage
24 VAC or DC with low power consumption
Primary circuit uses self-tightening terminals
Power supply and output terminals are finger-safe
If a DIN rail is not available, use the screw mounting option to attach to a back panel
Power supply is isolated from input and output
Accepted worldwide
Dimension Drawing