Cardinal Natural Cotton, 10 μm, 30-3/16 in, Tinned Steel Core, DOE
W-UC-10-R-30-T Cardinal Natural Cotton, 10 μm, 30-3/16 in, Tinned Steel Core, DOE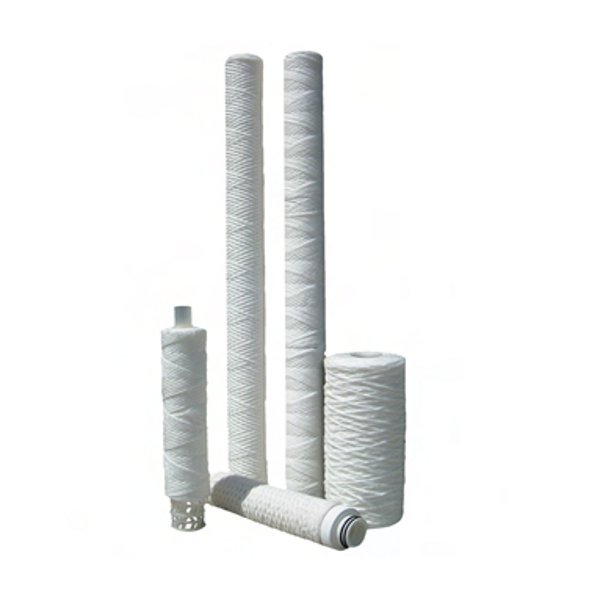 Cartidge Inside Diameter:

1 in.

Cartridge Outside Diameter:

2-7/16 in.

Core Cover Material:

None

Core Material:

Tinned Steel

End Cap Configuration:

Double Open End (DOE) without Gaskets

Filter Rating:

10 Micron

Length:

30-3/16 in.

Materials:

Natural Cotton (unbleached)

Max. Operating Temperature:

250°F (49°C) @ 35 PSID

Micron:

10 Microns

Seal Material:

None
Product Description
Multipurpose Filtration Solutions with Cardinal Wound Filter Cartridges
Effective removal ratings at nominal 90% efficiency from 0.5 µm to 150 µm
Wound Depth Cartridge Design and Function
Wound cartridges provide true depth filtration utilizing thousands of tapered filtering passages of controlled size and shape.
Each layer of roving contributes to true depth filtration by trapping its share of particles. Wound cartridges offer a gradual pressure increase during cartridge life versus surface-type media that have an abrupt flow cutoff when loaded. In addition, the irregular outer layer reduces surface blinding, assuring longer cartridge life and full cartridge dirt-holding capacity utilization.
Benefits
Multiple-length cartridges minimize change out time, eliminate spacers and are available to fit any industry standard filter vessel.
FDA grade polypropylene (DOE only) cartridges certified to ANSI/NSF61 standard for contact with drinking water components.
Continuous strand-winding geometry provides performance consistency.
One-piece metal extended center core option eliminates need for cartridge guides in all industry standard multi-cartridge vessels.
A special snap-in extender is available for polypropylene cores.
Cotton, rayon, polypropylene, nylon and polyester materials meet FDA regulations for indirect food contact under 21CFR177 (current revision).
Various O-ring and end cap options are available.
Applications
Photo Solutions
Potable Liquids
Edible Oils
Vegetable Oils
Petroleum Oils
Amines
Organic Acids & Solvents
Prefilter for RO Membranes
Water
Oxidizing Agents
Concentrated Alkalines