Parker PrestoLok Fittings W169PLPNS Male Elbow 90 Degree
Parker PrestoLok Fittings W169PLPNS Male Elbow 90 Degree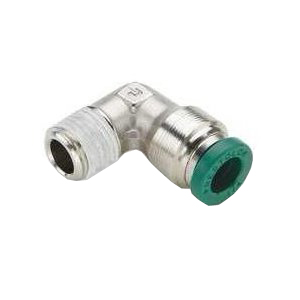 Refine Search:

90 Deg Elbows

Manufacturer:

Parker Pneumatic

Product Family:

PrestoLok Fittings

End 1 Type:

Tube Fitting

End 2 Size:

1/4 in.

End 2 Type:

MNPT

End 1 Size:

3/8 in.

Product Type:

Male
Parker Prestolok Fittings W169PLPNS Male Elbow 90°, Low Pressure Fitting Elbow, Tube to Pipe, 3/8 x 1/4in, Push-to-Connect, Male Pipe, 90 Degree, Non-swivel.
Product Description
Prestolok Fittings
Ready-to-use compact one-piece fitting for use with most thermoplastic tubing. This fitting is specially designed for low pressure circuits where fast assembly, disassembly and reassembly is important. No special tools are needed for assembly; just insert the tubing until it bottoms. Prestolok is designed to be used with no tube support. Radial claws on the stainless steel grab ring grip the tubing securely to provide retention. Brass Male pipe threads come standard with a white acrylic sealant pre-applied ("W" prefix) swivels are featured on all male pipe threaded shapes for installation in tight places and for precise positioning. Prestolok should not be used for live swivel applications. The outside diameter of the tubing to be used with the fitting is marked on the release button.
Materials
Prestolok Nickel Plated Bodies: CA377, CA360, CA345
Prestolok Composite Bodies: Glass Filled Nylon
O-Ring: Nitrile (other compounds available on request)
Release Button: Polyacetal
Grab Ring: Stainless Steel
Assembly Instructions:
1. Cut thermoplastic tubing squarely, using Parker Tube Cutter PTC-001. Be certain the port or mating part is clean and free of debris.
2. Insert tubing into fitting until it bottoms. A slight twisting motion will ease the insertion. Pull on tubing to verify it is properly retained in the fitting.
3. To disassemble, simply push the release button against the body and remove tubing.
Dimension Drawing