Patlite WE Series 37.5mm LED Signal Tower
WE-502FB-RYGBC Patlite WE Series 37.5mm LED Signal Tower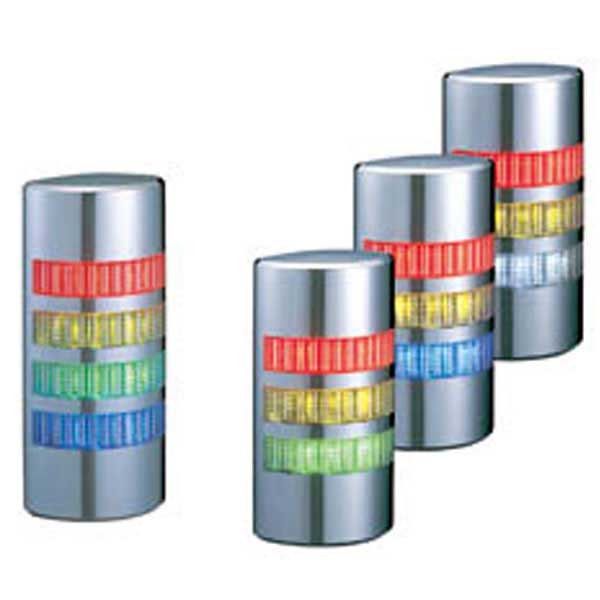 Lighting Option:

Continuous or Flashing

Tiers:

5

Refine Search:

Audible & Visible Signals

Product Type:

Signal Towers/Buzzers
Patlite, WE Series 37.5mm LED Signal Tower, 5 tier, top to bottom: Red, Amber, Green, Blue, Clear, continuous lighting or flashing, with buzzer, 24V AC/DC (50/60Hz), dust and water resistant, chrome plated body.
Product Description
The WE Series features an ultra slim half-moon shaped LED Signal Tower offering seamless integration with most equipment
Features:
Clear vertical-cut lens for enhanced illumination over a wide perspective.
Optional built-in audible alarm (FB type) with an output of 90dB (at 1m).
Chrome-plated body.
Installation: vertical or horizontal.
Body color selections: chrome plated or ivory white.
Lens is made of superior impact and heat resistant polycarbonate resin for superior durability and enhanced illumination.
NPN and PNP Compatible for direct connection to a PLC (24V DC ONLY)
Two lighting patterns: flashing and continuous lighting.
Dust and water resistance rating of IP65 (except for FB type: IP54).
Available colors: Red, Amber, Green, and Blue.
CE mark and conforms to the requirements for the EC directive.
UL Recognized Component (File No. E215660).
Dimension Drawing