Walchem pH Sensor Cartridge Electrode
WEL-PHF-74 Walchem pH Sensor Cartridge Electrode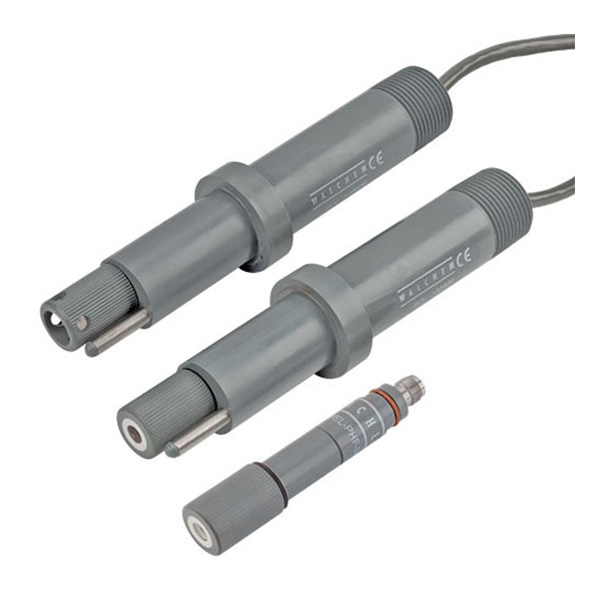 Product Family:

WEL Series

Product Type:

Cartridge Electrode

Used On:

W100/W600/W900 Water Treatment Controller pH Sensor
Walchem WEL Series pH Sensor Cartridge Electrode, 1-1/4" NPT, 5 VDC, 3 mA, 20' Cable, CPVC, In-Line Mount, Flat Surface, Cartridge Electrode with Pt 1000/Preamplifier and Tinned Lead for W100/W600/W900 Water Treatment Controller pH Sensor.
Product Description
pH Sensor Cartridge Electrode; Type Cartridge Electrode, Flat Surface; Used On W100/W600/W900 Water Treatment Controller pH Sensor; Voltage Rating 5 Volt DC; Current Rating 3 Milliamp; Temperature Rating 32 to 158 Deg F; Pressure Rating 0 to 100 PSI; pH Range 0 to 14; Material CPVC Cartridge and Housing, Fluoroelastomer O-Ring, Glass Cartridge Electrode; Mounting 1-1/4 Inch Threaded Male Adapter In-Line; Response Time 5 Second; Includes Preamplifier, Pt 1000, 20 Foot Cable, Tinned Lead; Applicable Standard CE
Series/Model Information
Walchem's WEL Series electrodes are cost-effective differential pH and ORP electrodes for industrial applications. They are modular in design with a rugged CPVC housing that contains the electronics. pH and ORP cartridges can easily be connected or replaced in minutes without tools. The cartridges feature a unique threaded interlock connection and a double o-ring seal, ensuring a watertight fit and secure seating at all times.