Parker Compression Fitting
ZHBW2 8-1/2-SS Parker Compression Fitting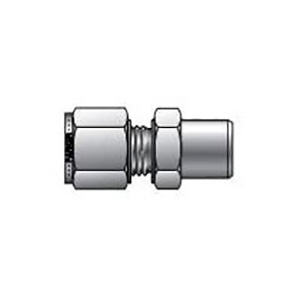 Designated Size:

1/2 in. x 1/2 in.

End Connection:

Tube x Butt Weld

Material:

316 Stainless Steel

Process:

Cold Finished Bar Stock

Schedule:

80

Application:

Heat Trace System, Instrument Air Line, Process Line
Parker Instrumentation ZHBW2 Series Compression Fitting, 1/2" x 1/2", Tube x Butt Weld, Schedule 80, Cold Finished Bar Stock 316 Stainless Steel, Single Ferrule, Straight, Compression Fitting.
Product Description
Compression Fitting; Item Compression Fitting; Type Single Ferrule, Straight; Designated Size 1/2 Inch x 1/2 Inch; Schedule 80; End Connection Tube x Butt Weld; Material 316 Stainless Steel; Material Specification ASTM A276/ASME SA479/BS970 316-S31/DIN 4401; Process Cold Finished Bar Stock; Application Instrument Air Line, Heat Trace System, Process Line; Used for Fractional Tube
Features/Benefits
Single Ferrule for Easy Makeup; Molybdenum Disulfide Coated Nut for Low Torque Makeup; Suparcase Ferrule for Superior Corrosion Resistant; Hardened Ferrule Provide Optimum Performance
Series Information
Parker CPI™ single ferrule compression tube fittings are designed as leak free connections for process, power and instrumentation applications. These tube fittings utilize a single ferrule for easy make-up and excellent performance in vibration applications. The "spring loaded" effect of the single ferrule creates a constant tension between the fitting body and fitting nut. CPI™ tube fitting are manufactured from heat code traceable 316 stainless steel. Other materials include 6Mo, Alloy 825, Alloy 625 and Alloy C-276. Straight fittings are machined from cold finished bar stock, while shaped bodies are machined from close grain forgings.
Additional Product Information
Compression Fitting; Item Compression Fitting; Type Single Ferrule, Straight; Designated Size 1/2 Inch x 1/2 Inch; Schedule 80; End Connection Tube x Butt Weld; Material 316 Stainless Steel; Material Specification ASTM A276/ASME SA479/BS970 316-S31/DIN 4401; Process Cold Finished Bar Stock; Application Instrument Air Line, Heat Trace System, Process Line; Used for Fractional Tube