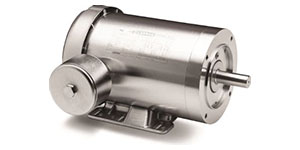 LEESON Electric, a business unit of Regal Beloit America, Inc., announced today that the Extreme Duck Ultra motor has earned the stringent IP69k ingress protection rating, validating that the revolutionary design is completely impenetrable to liquids and dust in any mounting position. Made entirely of stainless steel, the FDA-approved food-grade model is manufactured with materials and lubrication that are safe in sanitary environments and tough against moisture, humidity and chemicals that cause corrosion.
Attendees at the IPPE show in Atlanta can experience LEESON Electric's complete line of motors and drives for the poultry production industry – including the Extreme Duck Ultra – by visiting booth B5544.
"The next generation design of the Extreme Duck Ultra motor withstands the harsh use that's common in the food processing industry," said Steve Bernhardt, LEESON Electric lead application engineer. "The all-stainless motor was researched, designed and tested specifically for use in wet environments and we're thrilled that it is now IP69k rated."
A proprietary shaft seal that underwent a year of testing – 8,760 hours – is one of the motor's unique features. Other features include:
-Lead wires are non-wicking, and are colored and numbered for easy identification during installation
-Installable in all mounting positions
-Standard dual voltage and dual rotation
-New encapsulation process with better materials ensure complete filling of the motors and curing of the epoxy encapsulation
-All stainless-steel exterior
-Nameplate information is permanently etched into the frame
-Conduit box on TEFC motors rotates 360 degrees
-Inverter Duty IRIS® insulation system
-Corrosion resistant coating applied to rotor
In addition to undergoing LEESON's normal in-process testing, each motor is 100 percent pressure tested before leaving the plant, to ensure the motor is completely sealed to prevent the ingress of liquids. The motor meets the Energy Independence Security Act mandate effective in June 1, 2016. This ruling came from the DOE on May of 2014, requiring expansion of the 3 phase, single-speed, low voltage, integral HP motors, 1—500 HP to meet NEMA Premium efficiency levels as listed in the NEMA 12-12 table.
Benefits of the next generation Extreme Duck ® Motor include:
-Numbered lead wires enable easier readability and identification, reducing installation time and costs
-Pressure testing guarantees liquids don't penetrate the motor, increasing motor life and reducing plant down time
-Eliminating corrosion ensures longer motor life and lessens operating costs
-Washdown motors enhance flexibility and durability, decreasing operating expenses while increasing uptime
The Extreme Duck Ultra motor won a 2016 Engineers' Choice Award, sponsored by Control Engineering, and a Plant Engineering 2015 Product of the Year award. The motor was recognized in the motion – motors and electric motors and drives categories respectively.