E3ZM stainless-steel series - Hygienic and detergent resistant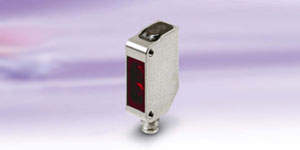 The series features outstanding corrosion and wear resistance, and offers the ideal solution where hygiene and resistance to aggressive cleaning agents are important – as in food production lines for example.
The hermetically-sealed housing also provides resistance to high-pressure water meeting IP69K requirements.
Features and benefits:
• High-grade SUS 316L stainless-steel housing offering excellent corrosion and wear resistance
• IP69k high-pressure washdown certified
• Certified detergent resistance by Ecolab
World's Strongest: Withstands Detergent and Disinfectant Spray
We used SUS316L for the case and the best material for all parts to achieve 200 times the durability of the E3Z (in 1.5% solution of sodium hydroxide at 70°C) to make the E3ZM suitable for the cleaning conditions of food-processing machinery.
World's First: Superior Protective Structure
The first IP69K* (DIN 40050-9) protective structure in the world for a square metal photoelectric sensor. Suitable for high-temperature, high-pressure jet water spray cleaning applications.
* Refer to the footnote on Catalog (ratings and specifications table).
Industry's Best: Shape and Markings Designed for Greater Hygiene
Few indentations in the shape means less dust and water can collect, making the E3ZM more hygienic. No labels have been used in order to prevent foreign matter contaminating food products. The E3ZM model and lot numbers are imprinted using a laser marker.