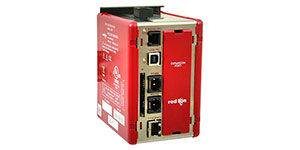 Ocean Data Systems (ODS) announces that Red Lion Controls has joined the Dream Report Proven Partner program. Red Lion's wide range of industrial automation and networking products include process control products, HMIs and panel meters, Ethernet switches and cellular M2M devices and communication converters. Many of these products are involved in applications that require compliance and/or performance reports and dashboards.
Red Lion has evaluated Dream Report for use with their products and has joined the Dream Report "Proven Partner" program. This program highlights that Dream Report is an endorsed product for use with Red Lion solutions and shows that both companies are committed to collaborating to support joint customers.
"Dream Report offers a wide variety of connectivity options including OPC standards and support for Modbus, which complements our broad range of industrial products," states Jeff Thornton, Director of Product Management of Red Lion. "Red Lion's collaboration with Ocean Data Systems helps to assure that our products meet customer requirements for EPA, FDA and other standards for compliance and performance reporting."
"Red Lion is an important product line for many of our channel partners. We are very happy to add Red Lion to our 'Proven Partner' program and will ensure Dream Report offers high quality support for their products," says Roy Kok, VP of Sales and Marketing for Ocean Data Systems.