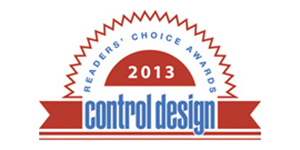 The Readers' Choice Awards were initiated by Control Design magazine in 2001 to identify the premier suppliers to the automation industry. The award acknowledges vendors that supply products of consistent quality, performance that meets or exceeds the user's expectations and dependable, available and proper support when it is needed. Voters receive an unaided ballot and are asked to name companies that provide the best technology value for products in over fifty hardware and software categories. 2013 is the eighth consecutive year that SolaHD has been rated #1 in the Power Supply category.
Other Emerson companies recognized for their service, technology and dependability as suppliers to the automation industry were:
Emerson Network Power - Embedded Computer Systems
Emerson Process Management - Pressure Measurement, Temperature Measurement, Vibration Measurement, Level Measurement, Flow Measurement, Software - Integrated Development Platform
Emerson Numatics - Pneumatic Systems Controls and Components
Emerson Industrial Automation - Motion Control Software, Industrial Electric Motor Drives
Congratulations to all the winners.