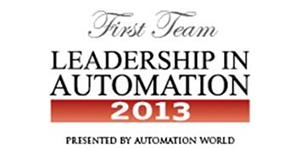 For the third consecutive year, Automation World magazine's Leadership in Automation program has recognized SolaHD as a First Team Honoree in the category of power condition and protection. Each year, Automation World, the leading business magazine serving automation professionals, invites automation professionals to vote for their preferred vendors in an unaided-recall survey through independent e-mail polling and its website.
According to Automation World, the First Team Honoree recognition is awarded for outstanding achievement in the area of leadership in automation products and services. Nearly four dozen categories are featured, representing the wide variety of automation technologies, software and products in use by today's manufacturing professionals across the discrete, batch and continuous process manufacturing industries. Automation World will highlight the 2013 category honorees in the January 2014 issue of its magazine and on the Automation World website.
Jim Chrzan, publisher of Automation World said, "Chosen by their customers, the First Team Honorees offer outstanding examples of innovation and service. Congratulations to them, and thank you to all the end-users who lent their voice to this program throughout the year."
SolaHD would like to thank Automation World, its readers and the participants of the survey. Most importantly, thank you to our customers and peers for recognizing SolaHD in the category of power conditioning and protection for a third year in a row. SolaHD and its representatives will continue to promote excellence within the automation community and provide our customers with a Total Power Quality Solution for their critical needs.