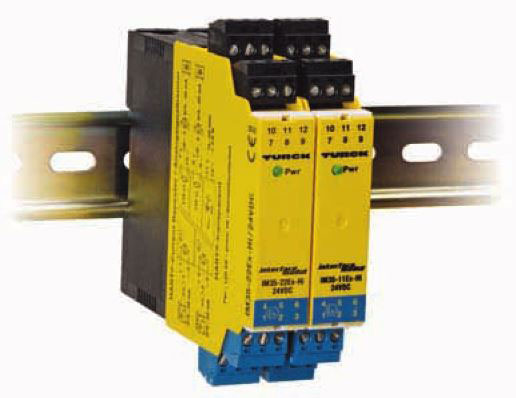 Analog Output Isolators
are for use with conventional 0/4-20 mA or HART smart "IS" devices and are available in 1 and 2 channel versions. These devices are designed to provide a convenient way to transfer 0/4-20 mA signals, generated in a non-hazardous area, to a hazardous area intrinsically safe device, such as a valve positioner or I/P device.

HART capabilities allow bi-directional communications for HART devices if this function is being utilized. The same devices are also applicable for non-HART smart devices.

One device can be used for all applications of this type, which makes applying these devices simple. Stocking spares only requires one type of unit adding to the convenience.

Part Number Key
Part Number Keys are to assist in IDENTIFICATION ONLY. Consult factory for catalog items not identified.


Extension Examples:

IM35-11Ex-Hi/24 VDC
Interface Module
Analog Output Isolator
Single Channel Input
One Non-Hazardous Area Current Output
Intrinsically Safe Associated Apparatus
HART Compatible
24 VDC Supply Voltage