TURCK is a global leader in industrial automation technology. Over 4,000 employees in 28 countries strive to deliver the best sensor, connectivity, and fieldbus technology products on the market. To do this more efficiently, Turck is strategically located across the globe, including sites in the United States, Germany, Australia, Switzerland, Mexico and China. This also helps Turck adapt to specific market conditions, as well as bring product to the market faster.

Turck strives to provide our customers with not only the best products on the market, but also the best service and support. Our highly trained engineering staff is available to walk you through your system requirements and help find solutions to difficult application problems. Unlike other companies, when you call Turck, you will always be able to speak directly with an engineer in a matter of minutes!

INDUSTRIAL ETHERNET

As customers continually search for faster and improved solutions for their industrial automation applications, many are discovering and choosing Industrial Ethernet for its ability to reduce expenses and increase communication capability.

What is Industrial Ethernet?

Ethernet itself is the computer networking technology generally used for local area networks (LANs) and is standardized in IEEE 802.3. Industrial Ethernet is the result of applying traditional Ethernet standards to industrialized applications. To make that possible, industrial grade components are used that can tolerate demanding conditions such as extreme temperatures, shock, vibration, and washdown applications.

What are the major benefits of Industrial Ethernet?

Industrial Ethernet benefits users by utilizing tools and techniques familiar to traditional office communication systems. However, through the use of rugged components, users may now apply Ethernet to industrial applications. This facilitates data transfer across the entire plant floor as well as plant-to-plant globally via secure network connections.

Industrial Ethernet supports a variety of topologies including star, line, device-level ring, and tree (shown below).


PROTOCOLS

Turck provides a complete line of Industrial Ethernet products including modular and block I/O systems, in-cabinet and on-machine Ethernet I/O, decentralized control with programmable systems conforming to IEC 61131, and innovative technologies such as RFID and IO-Link.

EtherNet/IP

EtherNet/IP is a communication protocol supported by the ODVA and is designed for use in industrial automation and process control applications. It takes the Common Industrial Protocol (CIP) and implements it onto the foundation of Ethernet. CIP envelops a wide-ranging suite of messages and services for a variety of applications, including safety, control, configuration and information. EtherNet/IP provides users with tools to deploy standard Ethernet technology for industrial applications.

PROFINET

PROFINET uses the same Ethernet as offices and IT departments. However, its capabilities have been ruggedized to meet the tougher conditions faced in industrial applications. PROFINET is often a first option due to its ability to be used in basically any function in industrial automation. Utilizing its integrated Ethernet based communication and supported by PROFIBUS International, PROFINET is able to satisfy a wide assortment of requirements.

Modbus

Quite simply, Modbus TCP is the Modbus RTU protocol with a TCP interface running on Ethernet. TCP/IP refers to Transmission Control Protocol and Internet Protocol, which provides the transmission channel for Modbus TCP/IP messaging. Modbus TCP/IP is used often in industrial environments due to its ease of deployment and maintenance, and because it was developed specifically with industrial applications in mind.

EtherCAT

EtherCAT stands for Ethernet for Control Automation Technology, with a goal to create the ability to apply Ethernet to automation applications that require very short and quick upload times. EtherCAT uses a unique approach known as "processing on the fly", in which data is not received, processed, and copied in order, but rather processed while passing through the device, allowing EtherCAT to operate at higher speeds than other protocols. This "processing on the fly" principle also allows flexibility in topology and provides data in nearly real-time. EtherCAT is commonly used in any application that requires motion or motion control.

Multiprotocol Ethernet Products

Turck provides a complete line of Industrial Ethernet products, including on-machine, in-cabinet, block, and modular I/O. Turck offers Ethernet solutions where I/O can connect directly or indirectly to Ethernet. The most recent innovation is the Multiprotocol Industrial Ethernet concept. Turck's innovative approach to Industrial Ethernet makes moving from another protocol or simply implementing a fieldbus for the first time plug-in simple. Turck's Multiprotocol products are self-configuring and offer a seamless transition to Ethernet, whatever Industrial Ethernet protocol that may be.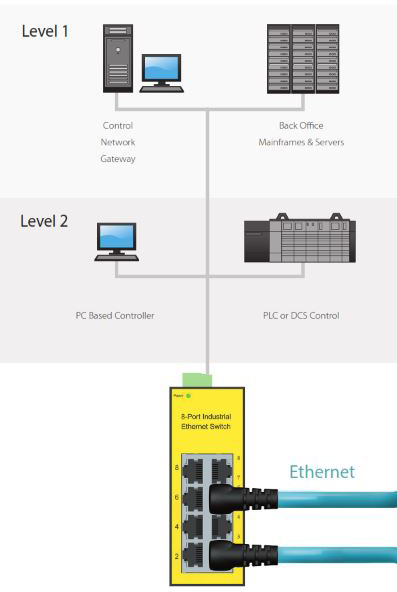 1 Device = 3 Protocols

• EtherNet/IP, PROFINET, and Modbus TCP
• Gateway (slave) recognizes the master upon powerup and self-configures for master protocol
• Supports ODVA quick-connect, Device Level Ring (DLR) and multiple configuration options to support a variety of PLC environments
• PROFINET options include: PROFINET RT, PROFINET Fast Start-up (FSU) and Media Redundancy Protocol (MRP)
• PROFINET IRT available in standard product configuration
• EtherCAT available in select product configurations
• Embedded web server for device configuration and diagnostics
• Embedded ethernet switch to support multiple topologies including linear & ring

SOFTWARE

I/O-Assistant/PACTWARE:

• FDT/DTM based technology
• For engineering, configuring, commissioning and diagnosing
• Download for free

CoDeSys:

• IEC 61131-3 based programming software
• Allows programming in Ladder, Structured Text, Flow Chart, Sequential Function and Instruction List
• Download for free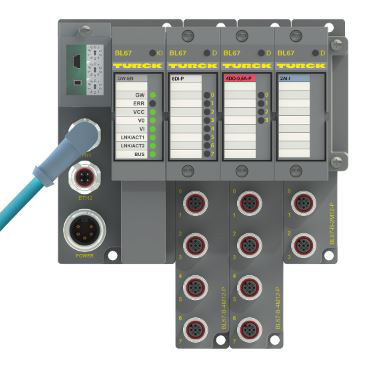 BL67: On-Machine Modular I/O

• Multiprotocol gateway with interface to the higher level control system
• Programmable features for local or distributed control
• BL ident - RFID system featuring both HF and UHF technologies
• Modules for digital and analog I/O, serial, IO-Link, counter, etc.
• M8 Picofast, M12 Eurofast, M23 Multifast and 7/8-16 UN Minifast connection options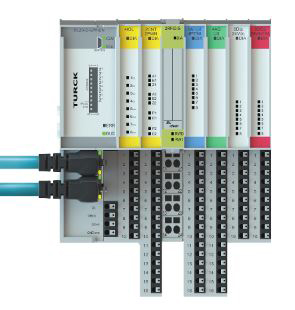 BL20: In-Cabinet Modular I/O

• Multiprotocol gateway with interface to the higher level control system
• Programmable features for local or distributed control
• BL ident - RFID system featuring HF and UHF technology
• Modules for digital and analog I/O, serial, IO-Link, counter, PWM, etc.
• Economy I/O options for application flexibility and I/O density
• Tension clamp or screw terminal connections

CABINET, CONDUIT, WALL PLATE ADAPTERS, AND RECEPTACLES

Field Logic Controller (FLC):

• Powered by Turck's ARGEE Technology
• Web based programming environment
• Standard in Turck Multiprotocol block I/O devices
• No PLC needed to perform logic

BCA Conduit Adapter

• 3/4" mark 9 or form 8
• 1" form 7

BIC Cabinet Adapter

• Single gang to M12 adapter

BPA Wall Plate Adapter

• M12 to RJ45 cabinet adapter

Ethernet Receptacles

• RJ45 to M12 adapter

INDUSTRIAL ETHERNET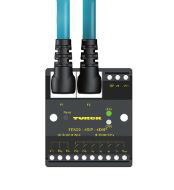 • Available in a variety of I/O channels
• Universal I/O option - each channel can be an input or output
• IP20 rated for in-cabinet, fixed I/O applications
• 3 power zones for isolation flexibility
• Removable terminals for easy installation


TBEN: On-Machine Block I/O

• Per point diagnostics
• Up to 16 channels ( TBEN-L*) or 8 channels ( TBEN-S*) of I/O available
• Universal I/O option - each channel can be an input or output
• Specialty I/O options such as RFID, universal analog input & IO-Link master
• Environmental protection: IP67, 68, and 69K rated
• Operating temperature range of -40 °C to +70 °C
• 4 or 5 pin auxiliary power connection options

SWITCHES

Ethernet Switches:

• IP20 featuring 5 and 8 ports
• IP67 featuring 5 and 9 ports
• Managed and unmanaged versions available
• Fiber optic option available

FIELDBUS CABLES

Cables and Connectors for All Major Protocols:

• Ethernet - RJ45, 4 and 8-pin M12
• PROFINET
• DeviceNet
• FOUNDATION fieldbus
• PROFIBUS-PA
• PROFIBUS-DP
• AS-interface

BL compact: On-Machine Flexible Block I/O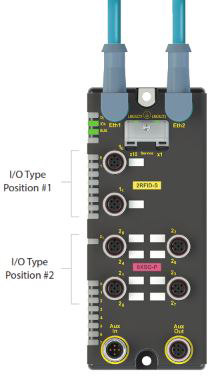 Concept:

I/O systems installed between the control cabinet and in close proximity to sensors and actuators have become increasingly more rugged, efficient and user friendly. Turck is supporting this trend with the BL compact flexible I/O station.

Features:

BL compact brings all of your I/O to the plant floor through a rugged, compact device. This product line provides a vast signal variety in packages rated up to IP69K that can operate in a wide temperature range. BL compact provides an inexpensive means to add a variety of I/O in an environmentally hardened package that allows direct mounting onto a machine without the need for a separate enclosure.

Bus Connection

• Multiprotocol - BLCEN

Connectivity

• Tested and approved metal connectors for the I/O, fieldbus, and power connectors
• Available with 1, 2, 3, 4, 5, 6, 8, and 16 I/O connections, M8 or M12, medium or large housing styles