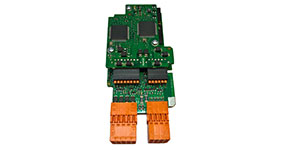 VACON Advanced Safety Options OPT-BL, OPT-BM and OPT-BN add advanced functional safety capabilities to the VACON NXP family. Descriptions of each of these three new products can be found on the Danfoss Drives website.
The Advanced Safety Options include the following features and functionality:
Stopping features:
STO – Safe torque off:
SS1 – Safe stop 1
SS2 – Safe stop 2
SQS – Safe quick stop
SBC – Safe brake control
SOS – Safe operating stop
Safe monitoring functions:
SLS – Safe limited speed
SMS – Safe maximum speed
SSR – Safe speed range
SSM – Safe speed monitoring
To program the new options, you will need to use the VACON Safe software tool. It is important to note that you must update to the latest version of VACON NCDrive (version 2.0.32) in order to interface with VACON Safe and the Advanced Safety Options.