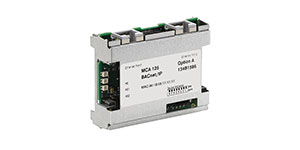 The VLT® BACnet/IP MCA 125 option brings enhanced functionality to the VLT® HVAC Drive FC 102 to reduce overall cost of ownership.
The ideal communications protocol for building automation and control networks
The VLT® BACnet/IP MCA 125 option allows quick and easy integration of the VLT® HVAC Drive into building management systems (BMS) using the BACnet/IP protocol or by running BACnet on Ethernet. It can read and share data points and transfer actual and requested values to and from the systems.
The option has two Ethernet connectors, enabling daisy-chain configuration with no need for external switches. The embedded three-port managed switch of the VLT® BACnet/IP MCA 125 option comprises two external and one internal Ethernet port. This switch allows the use of a line structure for the Ethernet cabling. In modern installation, this is becoming increasingly attractive as it removes networking components from the installation, which decreases costs and limits faults.
The VLT® BACnet/IP MCA 125 also makes it possible to control multiple high-efficiency permanent magnet motors in parallel and monitor points required in typical HVAC applications.
Besides standard functionality, VLT® BACnet/IP MCA 125 features:
COV (Change Of Value)
Read/WritePropertyMultiple
Alarm/Warning notifications
Ability to change BACnet object names for user-friendliness
BACnet Loop object
Segmented data transfer
Trending, based on time or event
This additional functionality lowers the traffic on the BACnet network significantly and improves its overall performance. This means that by installing the VLT® HVAC Drive with a VLT® BACnet/IP MCA 125 option, system operation is faster and the BMS controller is better utilized.
Danfoss Drives is also unique in that it is the first drives company to support the BACnet Advanced Application Controller (B-AAC) profile. This enables enhanced control and trending features in BACnet installations.