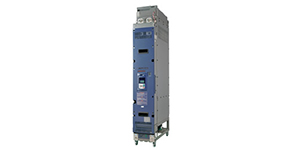 Fuji Electric Co. announced the release of the FRENIC-VG Series of stack-type, high-performance vector control inverters.
Objective:
Drive controllers at iron and steel plants and other large-scale facilities are separated and controlled in the optimum combinations. However, there are increasing demands at such facilities today for systemization that optimizes capacity and responsiveness, and these demands require easier installation and replacement procedures as well as less space usage.
These needs can now be met with the addition of this new series that includes the basic characteristics of the industry-leading FRENIC-VG Series and also separates the inverter and converter functions.
Features:
Able to handle up to a maximum of 3,000kW - Inverters and converters can be combined in the optimum way to suit the needs of the capacity of each facility
The use of regenerative energy leads to energy savings - Regenerative energy facilitates energy saving by effectively utilizing the energy within the same system via the PWM converter
Operation can be continued even in the event of a problem - Because several inverters are used, when a direct parallel system is used to drive one motor, even if one of the inverters breaks down, the other inverters will continue running
Simple installation and maintenance - Because it is possible to slide the components into the inverter board, installation and maintenance are easy. Replacement with devices of 132kW and above is easy due to the attached casters
Meets international safety standards - Equipped with the STO safety function (stops inverter output), which corresponds to the Functional Safety Standard IEC/EN61800-5-2. Other safety functions are available as options
Primary Applications:
Conveyer cranes at seaports, iron and steel plants, large-capacity fans, large-capacity pumps, etc.
Product Enquiries:
Sales Department I
Power Electronics Sales Division
Global Business Group
Fuji Electric Co., Ltd.
Phone: 81-3-5435-7058