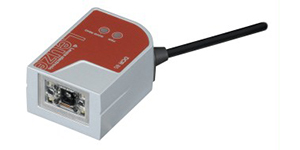 With the DCR 85 Leuze electronic presents a CMOS imager in two models - the DCR 80 as scan engine for direct integration, and as DCR 85 in protective metal housing. The DCR 85 can be integrated in instruments, attached directly to the pipettor, or used for establishing contact on the circuit board via an M12 plug or an open cable end. It is characterized by good reading and decoding properties and can read all current 1D and 2D-codes, for example for readings on samples, reagents, racks our carousels.
The special optics system allows the reading of the smallest high-density codes, as well as the detection of standard codes in a large reading field. The new code reader is equipped with an RS232 interface and is configured via the "Leuze Sensor Studio" software.
Thanks to the metal housing option, the new code reader is particularly well suited for the automation of code readings in laboratory analysis, as well as applications in the packaging industry, material handling, and in automation and robotics.