The new hex head fiber series with built-in lens combines significant performance enhancement with user-friendly mounting even in tight spaces. Offered at an affordable price they are an attractive alternative to solutions with separate lenses.
The new hex head series E32-LT/LD contain through-beam and diffuse reflective fiber models sized M4 and M6. All fibers feature high-flexible fiber wire for easy installation into machines.
Increased usability and robustness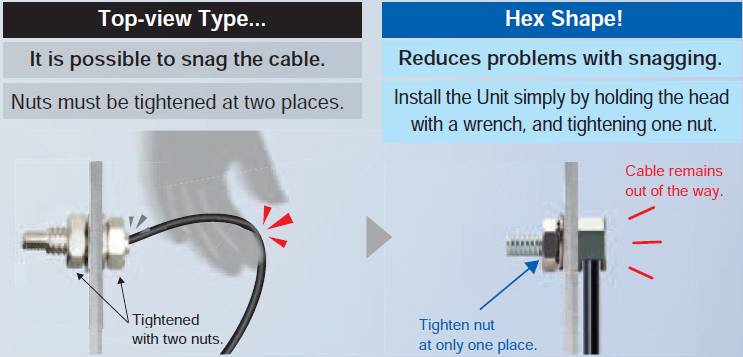 Hex head fiber units provide significant advantages when mounting in machines, especially when space is limited.
Increased sensing distance and precision

By reducing the spot angle from 60° to 15° built-in lens fiber provides up to 10 times higher light intensity and allows much higher precision in object positioning compared to conventional fiber heads. In addition, it also reduces the danger of side reflection and mutual interference.

Built-in lens provides simplicity and reliability

New Fibers with built-in lens eliminate possible failures of separate lenses that can get lose from conventional fibers. It also saves installation space and simplifies part selection and ordering.
APPLICATIONS
Positioning Paper in Book Production
• The high power provides stable detection even in environments containing paper dust.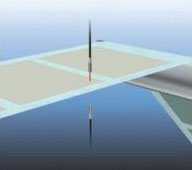 Detection of Labels through Label Backings
• The high power lets the light penetrate the backing material for stable label detection.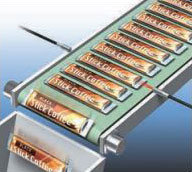 Detection of Passing Stick Coffee Packages
• Aperture angle of 15° ensures stable detection even with narrowly spaced workpieces.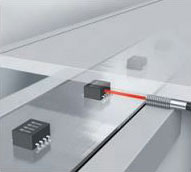 Detection of Electronic Component inside Devices
• Aperture angle of 15° also ensures stable detection without an error even if there are objects near small devices.