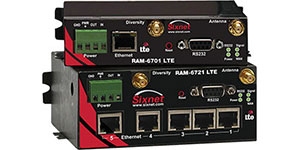 Pop psychologists have long opined that most conflict is due to breakdowns in communication. In the manufacturing world, a similar adage might apply to machines.
After all, machines generally don't work in isolation. Traditionally, they provide information to one another through radio signals or older satellite technology, but today, many use cellular signals - and that can create a problem, said Paul Bunnell, product manager at Red Lion Controls Inc.
I'm not a complete geek, but I admit to being fascinated by the high-tech world of Red Lion Controls, at least when they aren't introducing concepts that are completely over my head. In this case, the problem Red Lion is attempting to solve is a familiar one for anyone who has experienced spotty cellphone service.
Imagine you are an oil company with oil wells in different locations. Verizon provides the strongest cell signals in one location, but AT&T is best in the other.
Or suppose a company erects a shiny new cellphone tower near your manufacturing plant - or your provider tears its tower down - and you want to switch providers.
Bunnell said Red Lion controls is now selling a provider-neutral router that can switch signals by simply replacing the SIM card.
"This can save a great deal of time and money, especially for customers monitoring hundreds or thousands of devices," he said in a news release.
This may not be a device that will revolutionize the industrial sector, but for me, it's interesting as another example of the high-tech problems and solutions manufacturers need to consider. Tech savvy is a must for any business now.