Industrial Automation
TURCK
is a global leader in industrial automation technology. Over 4,000 employees in 28 countries strive to deliver the best sensor, connectivity, and fieldbus technology products on the market. To do this more efficiently, Turck production facilities are strategically located across the globe, including sites in the United States, Germany, Switzerland, Mexico and China. This also helps Turck adapt to specific market conditions, as well as bringing product to the market faster.
Turck strives to provide our customers with not only the best products on the market, but also the best service and support. Our highly trained engineering staff is available to walk you through your system requirements and help find solutions to difficult application problems. Unlike other companies, when you call Turck, you will always be able to speak directly with an engineer in a matter of minutes! Combine this with a network of 2,000 experts across the United States, and you literally have the finest assembly of industrial automation professionals at your doorstep.
INDUSTRY PRESENCE
Turck's diverse product portfolio may be applied in a myriad of industries, such as automotive, food and beverage and semiconductor. There are many industries where Turck products have a strong history of success; for instance, the use of sensors in canning, bottling and pulp and paper plant operations. This rich history helped establish Turck as one of the most prominent sensor manufacturers in the world, and served as a catalyst for success with Turck's other product lines. You will be hard-pressed to find a market where Turck sensors, connectivity, and fieldbus technology products have not been successful. Just a few of the markets where Turck has thrived are listed below.
• Assembly
• Automotive
• Canning & Bottling
• Chemical & Petrochemical
• Electronics
• Food & Beverage
• Machine Tool & Die
• Material Handling
• Packaging, Converting & Printing
• Pharmaceutical
• Semiconductor
• System Integration
• Transportation
• Water Treatment
APPLICATIONS
The array of applications where Turck products are used is as extensive as the markets where they are applied. In fact, many Turck solutions have been designed to meet specific applications and keep Turck customers ahead of the competition, including:
Industrial Ethernet
Turck provides customers with forward-thinking Industrial Ethernet products which allow them to control and streamline manufacturing processes like never before. From M8 Ethernet connectivity solutions for shrinking control devices to Turck's Multiprotocol Ethernet technology, Turck's innovative solutions allow Industrial Ethernet communication to be done quicker and easier.
Welding
A full line of products have been specially developed for use in welding environments. These sensors, cordsets and network devices use special materials that resist weldslag buildup. Turck's uprox®3 sensors feature an integrated predamping protection function, which allows embeddable sensors to be recessed mounted by a half turn. It also allows non-embeddable barrel style sensors to be embedded in metal up to the outer edge of the thread and non-flush rectangular style sensors to be embedded in metal on all four sides with some reduction in sensing range.
Washdown for Food and Beverage
Turck uses the highest-quality materials for its IP69K washdown-grade sensors, cordsets and I/O stations. These parts are able to withstand the spraying, cleaning and humid or moist environments often found in food and beverage applications.
Extreme Temperatures
Turck products have some of the highest tolerances to temperature extremes on the market. Sensors are available with ratings as low as -60 °C or high as 250 °C and I/O products are rated from -40 °C to 70 °C. For connectivity, Turck's extremelife-60 cable offering combines an unparalleled amount of approvals for extreme temperatures and is temperature rated from -60 °C to 105 °C.
Sensors
Turck's complete line of position, measurement and instrumentation products have been designed for use in a wide variety of industries and provide sensing solutions for your most challenging applications.
Measurement
• Incremental Rotary Encoders (IO-Link Enabled)
• Absolute Rotary Encoders
• Draw Wire Encoders
• Linear Distance Transducers (IO-Link Enabled)
• Linear Encoders
• Inclinometers (IO-Link Enabled)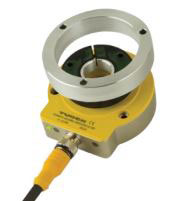 Instrumentation
• Pressure Transmitters (IO-Link Enabled)
• Temperature Transmitters (IO-Link Enabled)
• Flow Monitors
• Continuous and Point Level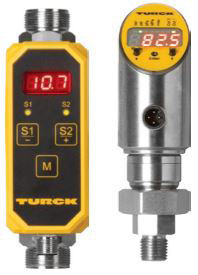 Position Sensors
• Inductive Proximity Sensors
• Uprox, Uprox+, Uprox 3
• Ferrite Core - Standard and Extended Range
• Stainless Steel Front Face
• Linear Inductive Sensors
• Magnetic Proximity
• Capacitive
• Ultrasonic (IO-Link Enabled)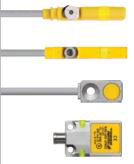 Connectivity
Rugged, durable and reliable, Turck connectivity products consolidate wiring, connect sensing devices and distribute power and signals.
Cordsets
• Environmentally sealed for harsh environments
• Pin count 2-28 pole
• Power range up to 35A
• LED visibility
• Industry specific jacketed cable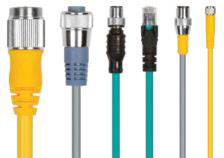 • 4, 6 or 8 ports, with or without LEDs for NPN or PNP sensors
• Consolidate wiring
• IO-Link Enabled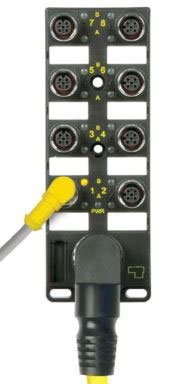 Splitters
• Increase connection possibilities
• 2, 3 and 4 branch options

Wire Consolidation
• Rugged, sealed junction boxes with up to 16 inputs
• Splitters up to 4 branches
• Inductive Coupling (IO-Link Enabled)
• Tees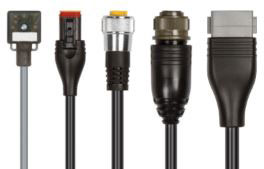 Fieldbus Technology
Turck's fieldbus technology products are used to link devices such as sensors and actuators to an automated controller. Products range from junction boxes and ethernet switches to distributed I/O and RFID, and are compatible with all major network protocols, like EtherNet/IP, EtherCAT, Modbus TCP, PROFINET , AS-interface, CANopen, DeviceNet, PROFIBUS-DP, PROFIBUS-PA and FOUNDATION fieldbus.
Fieldbus Technology
• Modular and fixed I/O stations available
• Varying protection degrees from IP20 to IP69K
• Products available for all network protocols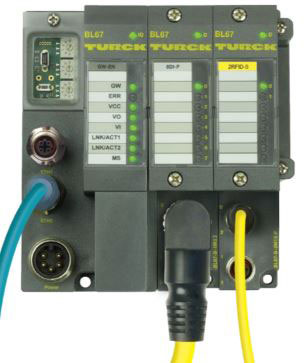 RFID
• HF (13.56 MHz) and UHF (900MHz)
• Self-configuring for HF and/or UHF in a single I/O slice
• Robust and flexible transceivers
• Variety of tags available: bolts, id-cards, adhesive labels, autoclave, laundry
• Combine RFID and I/O into one node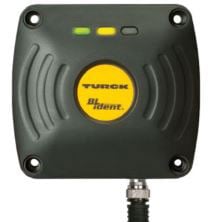 Engineered Solutions
It's our relentless pursuit to design high-quality, advanced-technology systems to ultimately make your life easier. World-class service and support, along with innovative products are just a few ways we aim to lessen your load. Can't find what you're looking for? Unsure which products will work best for your application? Turck's experienced engineers will work with you to provide an application specific solution – even if it means designing a new product! Turck can customize many of our products to your needs, including:
• Custom connectorized cables or sensors
• Tailored solutions for unconventional product specifications
• Private wrap and custom printed labels
• Customized and complete electrical panels
Challenge us with something new!