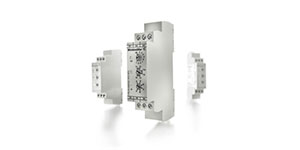 Multi-functional timing relay with multi-voltage input

Timing relays are used frequently in automation engineering to compensate for malfunctions caused by high cycle rates. Short pulses are extended and can, hence, be identified reliably by downstream control components.

Our timing relay offers great functionality in a small footprint. A flat front panel, an easy-to-read LED display, and operating elements that are adjustable with standard tools make configurations very simple. With the IT-TIMER, Weidmüller offers a highly efficient multifunctional timing relay with multi-voltage input, which fulfills the product standards in accordance with IEC 61812-1.

Your special advantages

• Multi-voltage input for operating ranges from 24 V DC to 48 V DC or 24 V AC to 240 V AC
• International usage guaranteed according to IEC 61812-1
• Multifunctional concept with seven easy configurable timing functions
• Extremely compact dimensions