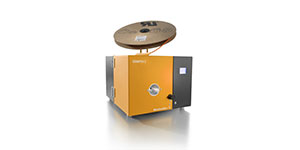 Powered stripping and crimping machine for standard applications

The continuous acceleration of individual work steps is essential to achieving sustainable corporate success. Crimpfix E unifies conductor stripping and crimping into only one work step.

With Crimpfix E, Weidmüller expands the range of automated machines that speed up working processes to meet increasing industrial requirements. Its unique design allows for efficient cable assembly, especially in small and medium production batches. The modification of machine parameters to adapt to different cross-sections is particularly convenient. Crimpfix E operates with Weidmüller 8 mm wire end ferrules.

Your special advantages

• Effortless modification of machine parameters for different cross-sections
• Integrated touch-screen for convenient display and configuration of machine settings
• Robust metal design for high durability
• Optimum crimping results with 8 mm standard wire end ferrules from Weidmüller in different color coding