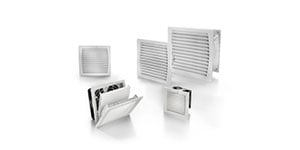 Filter fans with low energy consumption and optimised performance

Growing digitisation increases the proportion of active electronics in control cabinets, leading to higher density of the electronics within. Our filter fans enable efficient heat dissipation and thus increase the life expectancy of your electronic components.

Due to their lower energy consumption with an increased air flow rate, our filter fans ensure a safe and economical cooling of your control cabinet. In addition, the folded filter mat IP 55 has a service life three times as long as conventional filter mats due to its larger surface area. Sophisticated details such as the snap mechanism at all four corners or the functional flap cover allow for a quick, tool-free assembly, and thus save time and money.

Your special advantages

• Optimised energy consumption through a greater air flow rate with lower power consumption
• Up to three times longer service life with the innovative folded filter mat IP 55
• Four-corner snap mechanism for quick and tool-free assembly
• Easy-to-use flap cover for quick and uncomplicated filter mat changing