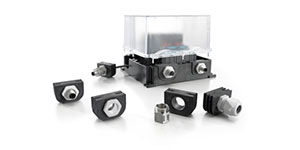 FieldPower adapter solutions for decentralized automation

Modular power bus systems are the perfect basis for decentralized automation. With the FieldPower product family, a unique solution system is available for a variety of applications. The new FieldPower adapter for M16 and M20 connection threads complements this product range.

The adapter solutions allow the combination of all cable glands and circular connectors with M16 or M20 connection threads in the same way with FieldPower as with HQ adapters. No additional holes in the housing are required. The cable harnesses can be pre-assembled in the gasket and then simply inserted into the FieldPower housing. Even a subsequent repositioning or insertion of additional cable sets is possible.

Your special advantages

• Suitable for all cable glands and circular connectors with M16 or M20 connection thread
• No additional housing holes required: cable sets pre-assembled with gasket can be easily inserted into the housing
• Allows the subsequent repositioning as well as the insertion of complete cable sets