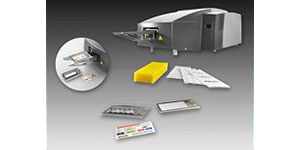 Markers made of aluminium or stainless steel to mark electrical equipment and cables.

For the first time ever Weidmüller offers a marking system with which it is possible to print on markers made of metal. The markers are printed using the "PrintJet PRO" printer, which also prints the proven assortment of MultiCard markers. Utilizing Weidmüller's system ensures marking tasks in and around the electrical cabinet are extremely straightforward: one printer, one software, one type of ink. Users do not need an oven or similar additional equipment. The seamlessly fine-tuned holistic system is open to high levels of customized solutions – thanks to the freedom to create layouts and uncomplicated importing of data from other systems. Now, long delivery times for pre-printed marker versions are a thing of the past. MetalliCards are printed on the ink-jet printer PrintJet PRO*. Printing metal MetalliCard markers is made possible by a special update kit. It is possible to create colour graphics, characters and logos to suit individual requirements. Users are able choose between riveting and gluing or using stainless steel cable ties or holders to secure the metal markers – options that ensure high levels of flexibility.
Fulfilling the highest requirements MetalliCard markers are resistant to high temperatures, extreme changes to the climate, UV radiation and other external influences. The rectangular markers are available in sizes from 27 mm x 18 mm through to 85 mm x 54 mm. There are also round markers (diameter: 30 mm) as well as a version for stainless steel cable ties for marking cables. Anodized aluminium (inexpensive with excellent print quality) and stainless steel (particularly suitable for the process and chemical industries) are the materials of choice.