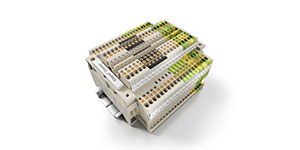 Klippon Connect 2-tier terminal blocks

With the increasing complexity of switchgear, the number of connection points which need to fit in the smallest footprint also increases. Weidmuller Klippon Connect 2-tier terminal blocks with PUSH IN connection technology offer maximum connection flexibility on an overall width of only 3.5 mm.

The 2-tier terminal blocks meet the current industry requirements due to their large number of variants and the possibility of connecting three different potentials on a width of only 3.5 mm. Various colours and marking options ensure a safe and structured wiring. The smart design and the numerous connection options make the Klippon Connect 2-tier terminal blocks with PUSH IN technology an all-rounder for a broad range of industrial applications.

Your special advantages

• Test point on each tier for easy troubleshooting with a 2.0 mm test plug
• Cross connections at each tier for shorter wiring times
• Space-saving width of only 3.5 mm
• Clear identification due to large marking areas
• Suitable for many special applications due to different connection functions and colour-coded design

Particularly space-saving
A terminal block is only 3.5 mm wide. Cross connections on each tier permit a bridging of the potentials for shorter wiring time.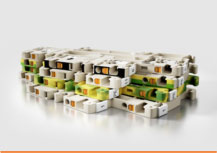 Large variety
Due to the colour-coded design and the different connection functionality, the terminal blocks are suited to a wide range of specialised applications.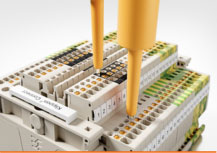 Simplified testing
The integrated test point on each tier allows for fast, straightforward testing procedures with standard testing plugs.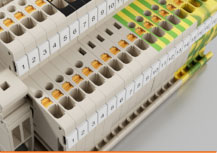 Professional identification
Large marking areas in combination with our marking solutions ensure clear identification of the individual contact points.