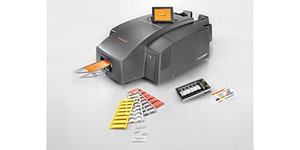 Systemised marking – for optimised processes. Can be deployed as a "one-stop-shop" printer in highly automated processes. Uses water-based ink for colour printing

The new Weidmüller "PrintJet ADVANCED" ink-jet printer fulfills the ethos of "Systemised marking": Software, markers and printers that are perfectly harmonised in one system. Thanks to its wide range of uses, the "PrintJet ADVANCED", which has been developed around many different customer needs, is suitable for most industrial requirements and can be integrated perfectly into industrial processes.
Designed as a "one-stop-shop" printer, which can print plastic or metal markers, the "PrintJet ADVANCED" sets new standards in respect of usage and handling, print image, speed and the longevity of the labelling. Whether being used to print coloured or black markings for protection classes IP20 or IP67, or for deployment outdoors, the printer will impress with its Plug & Play functionality, excellent print quality – including warning symbols or data matrix codes – sound value for money and fantastic performance levels.
This further development of the successful PrintJet range from Weidmüller can now print 6,000 markers in just 45 minutes. It can be deployed anytime at any location and put into service immediately, even for 24-hour operation if required and without having to spend valuable time monitoring the printing process or investing in additional hardware. Thanks to the embedded PC, jobs can be implemented quickly because the necessary software components and standard layouts are pre-installed. The printer's user interface is available in 25 different languages and is intuitive to operate thanks to the 5.7" TrueColor TFT Touch Panel that can be tilted and swivelled.
The pre-installed languages allow unrestricted use of the printer around the world. In terms of the balance between consumption, emissions and efficiency, the "PrintJet ADVANCED" delivers an unbeatable commercial marking solution. The ink-jet printer uses water-based inks with integrated thermal fixing and offers print qualities of 600 or 1200 dpi. The printer and M-Print® PRO labelling software require Microsoft Windows® XP, Windows Vista or Windows 7.