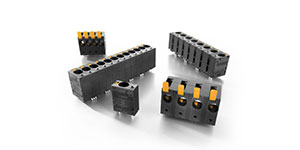 LUF Series PCB terminal up to 16 mm² with PUSH IN connection

In the field of power electronics, highly reliable and safe connections are essential for the wiring. LUF PCB terminals provide a high level of contact reliability because of the Weidmüller Connection Safety Concept. The contact closes automatically to ensure a highly reliable connection.

The LUF series maximizes safety and reliability of connections to implement high flexibility even in compact spaces. The proven PUSH IN connector allows tool-free connection to the circuit board. The ergonomic design of the LUF terminals affords effortless disconnection of the cable via the opening clamp. Installation and maintenance are simple due to two readily accessible test points. The enhanced finger protection, without additional cover, meets the requirements of IEC 61800-5-1.

Your special advantages

• Unique high reliability of the contacts
• Tool-free and comfortable operation of the opening clamp to disconnect the wiring
• High level of contact reliability based on "Connection Safety Concept"
• Compliance with UL 1059 up to 600 V in 10 mm pitch and up to 1,000 V in 15 mm pitch for challenging applications
• Two directions for cable entry at 90° and 180°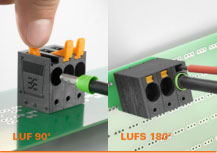 Comfortable actuation
An ergonomic lever makes it easy to open the clamp and release the wire. The contact point for LUF can be opened comfortably by hand, and LUFS can be opened using a standard screwdriver.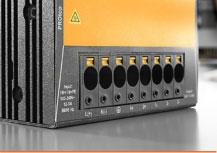 Compliant with UL 1059
As a result of the offset arrangement of the solder pins, the LUF 15.00 and also the LUFS 15.00 allows unrestricted international use in applications in accordance with UL 1059 up to 1,000 V.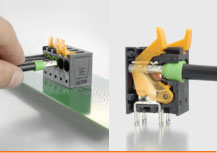 PUSH IN connection up to 16 mm²
The PUSH IN connection system allows for wires to be connected to the PCB board without the need for tools. Solid wires or wires with ferrules can be directly connected. Done!