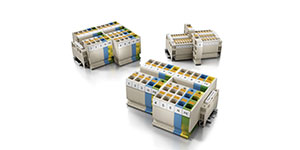 Convenient potential distribution with Klippon Connect

A growing number of industrial applications need to fit a large amount of technology into a very limited space. At the same time, the requirements for the flexibility of connection possibilities are increasing.

The terminals from the Klippon Connect series allow a simple, safe, and space-saving installation of conductors for power supply applications. The uniform position of the cross-connection channels allows comfortable potential distribution within all cross-sections of the Klippon Connect A series.

Your special advantages

• Simple potential distribution due to the possibility of cross connection
• Integrated test points on each tier
• Clear identification due to large marking areas
• Integrated pusher for easy opening of the contact without any special tools

Integrated pushers
Simply pressing the pusher causes the contact to open and the conductor can be removed – and there's no need whatsoever for any special tools.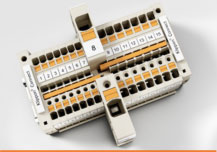 Easy potential distribution
The customer is able to distribute the potential on terminals from 1.5 mm² to 2.5 mm² by using ALO 16.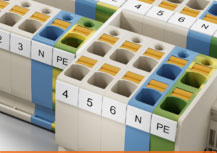 Professional marking
Large marking areas in combination with our marking solutions ensure clear identification of the individual contact points.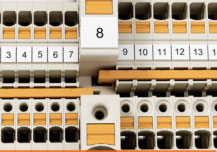 Check and test point
The integrated test point on each tier allows for fast, straightforward testing procedures with standard testing plugs.