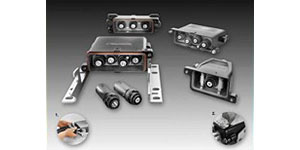 One to four-pole high current connectors with crimp connection technology for 250 A and up to 4000 V

Weidmüller has now extended its established family of "RockStar® HighPower connectors" with the new high current connector "RockStar® HighPower 250 A" equipped with crimp connection technology for 250 A and up to 4000 V. The new high current connectors are based on a modular design, just the same as the well-known "RockStar® HighPower" 550 A version. The use of one to four-pole modules ensures users always obtain the right connector to fulfil their respective application requirements. The space-saving, 250 A rated power contacts are easily assembled to create a variety of different vibration-proof versions: one connector with four power contacts or with three power contacts and a PE contact or with two power contacts or as the most compact version with a single power contact. The two-piece, size 8 die cast aluminium housing comprising hood, base and bulkhead designs is equipped with a large surface area PE connection; the same applies to the mating frame. The highly impact resistant and corrosion resistant housings are easily assembled and are rated to degree of protection IP68 and IP69k. Assembly of the newly developed bulkhead housing is supported by a rapid assembly mating frame complete with pre-assembled fastening screws.
Weidmüller has redesigned the crimp contacts of the "RockStar® HighPower 250 A" so that they can now be dismantled via the M25 cable entry bore. Multi-core, flexible and finely stranded copper conductors from 25 to 95 mm2 are easily terminated using standard crimping tools. No special tools are needed. Thanks to the interior EMC connection, which can be adapted to the respective cable diameter, the "RockStar"®HighPower 250 A" has excellent EMC characteristics. The wide temperature range of -50 °C to +120 °C and housing impact resistance up to 7 joules ensures users are able to deploy the new high current connectors in extreme environments without reservation.