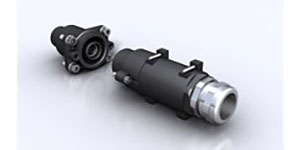 Weidmüller "RockStar HighPower 550A" for the new high speed "ICx" train

Weidmüller "RockStar HighPower 550A" for the new high speed "ICx" train. – Modular high current connector system for transport technology - designed for max. 550 amps and 1500 volts. – Robust, single-pin plug connector in protection class IP68 / IP69k; can be individually mounted onto one to four-pin high current connectors. – Trusted Crimpan connecting technology for multi, fine and ultrafine wire copper conductors up to 240 mm 2. – New type of high current connector for carriage junctions in the innovative high speed "ICx" type train.
The new, innovative "ICx" type high speed train will form the backbone of future DB long-distance transportation. From 2016, it will replace the Intercity and Eurocity fleets manufactured between 1971 and 1991. The new "ICx" trains are characterised by their high modularity and flexibility. They can be configured for 5 to 14 carriages, so that the train can be optimally adapted to various different requirements.
For the first time, configuring the trains is possible in half a day – a week was required previously. Weidmüller's brand new "RockStar® HighPower 550A" high current connector is responsible for this extremely high degree of time-saving.
The innovative connecting system with protection class IP68 / IP69k was designed for the specific assembly conditions between the carriage junctions. The highly robust, single-pin connector can be individually combined to form three and four-pin variants and transmits a maximum of 550 amps and 1,500 volts. The contact system is designed using trusted Crimpan connecting technology. Multi, fine and ultrafine copper conductors up to 240 mm2 can be easily connected using standard crimping tools. No special tools are required. This new type of connector system was developed in close collaboration with Siemens Mobility and Bombardier.