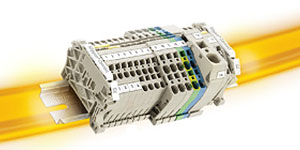 Whether it is
simple handling, more space in the panel or time saving on installation:
Klippon Connect offers numerous benefits for your process
. In line with our range of terminal blocks, we can offer you an application range and a universal range. The particular requirements determine which is the most suitable.

Often, standardisation enables the right solution to be found with our sophisticated, function-oriented universal range. It provides you with practical product features. For recurring application fields, such as control voltage distribution or signal wiring, we offer you the ideal solutions with our application range. Thanks to the high level of application focus, these solutions really do help increase productivity, efficiency and safety. And when tailored configuration is required, our customer-specific assembly service is available.

The Klippon Connect universal range is a complete range of standard products including all conventional connection technologies and functions.