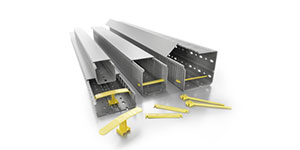 Cable ducts for organised wire management

Well-structured and protected wiring provides a solid basis for installation, maintenance and safe operation. The high quality of our wiring ducts makes it easier to build up sustainable wire-management structures. We support you from the planning to the commissioning of the control cabinet.

With our broad range of sturdy cable ducts of a consistently high quality, we offer you a flexible and durable cable management system. Practical wire holding lugs to fix already installed conductors, as well as precisely punched holes according to DIN EN 50085-2-3, facilitate accurate installations. The clever closing mechanism allows easy latching and ensures a secure fit for the lid.

Your special advantages

• Sturdy wiring channels without torsion for high-quality and durable cable routing
• Practical wire holding lugs to fix conductors already installed
• Precisely punched holes according to DIN EN 50085-2-3
• Clever closing mechanism for easy latching and a secure fit for the lid