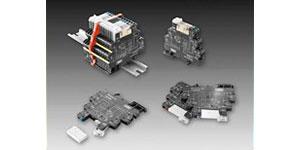 Relay modules and solid-state relays equipped with one and two changeover contacts housed in a slim-line design width of just 6.4 mm – with screw or tension clamp connectivity

High component density solutions for smaller electrical cabinet layouts, professional handling and comprehensive equipment identification options - are all demands that customers wish to see implemented in future-oriented connection levels. Weidmüller has indeed resolved these demands and is now presenting the implemented solution in the form of its new TERMSERIES. Featuring module widths of just 6.4 mm and 12.8 mm the extremely slim design of the relay modules and solid-state relays require very little space on the mounting rail. The high-performance relay modules and solid-state relays can be combined as required, and reliably switch loads of 8 A at 250 V. Depending on requirements customers are able to choose between products with fixed voltage inputs and a unique multi voltage input. Choosing a multi voltage input allows signals from 24-230 V AC/DC to be conditioned with just a single module version. That saves storage costs and makes it possible to implement universal connection levels to the field. TERMSERIES modules are available with a choice of screw or tension clamp connection technologies.
The first class housing design ensures equipment markings are always clearly visible and also offers colour coding to differentiate different voltage versions. Further distinguishing features of the TERMSERIES include a wide range of versions to suit different applications, all relay modules and solid-state relays have matching contours and a universal cross-connection solution – including across partition plates; it is even possible to cross-connect screw and tension clamp versions. The LED serves as a status indicator and also illuminates the complete ejector perfectly. The ejection lever ensures it is possible to remove the switching element safely. Weidmüller supplies its relay modules and solid-state relays fully assembled.