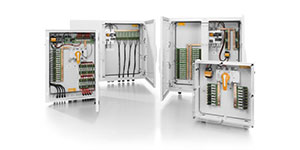 Customer-specific PV SMART combiner boxes

In the face of growing competition on the market for renewable energy, photovoltaic systems must be as efficient as possible. They therefore require components that are reliable and prevent downtimes.

With Weidmüller's proven solutions, all of the functions you need for your photovoltaic system to run smoothly are at your disposal. All components of our combiner boxesundergo stringent testing in our development laboratories to ensure high quality and long service life. This includes testing their properties under extreme temperature fluctuations and their insulation capability against external foreign bodies. Electronic products are continually tested in accordance with the latest EMC standards to guarantee reliable operation.

PV SMART boxes are available for 1,000 V and 1,500 V applications and are delivered ready to connect. The integrated PUSH IN connections halve the installation time required for conventional connection technologies. Benefit from our extensive know-how and experience, which we incorporate at every turn.

Your special advantages

• Lower operating costs thanks to reduced maintenance
• Long service life of all components guaranteed through compliance with IP standards and certification pursuant to DIN EN 61439-2
• Connection-ready delivery for easy installation in the field

Reduced maintenance costs
The new combiner boxes combine high reliability and economy. They ensure optimal output without maintenance – even after many years in operation.

Ready for 1,000 V and 1,500 V
Weidmüller combiner boxes are available for 1,000 V and 1,500 V architectures.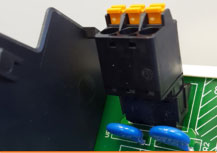 Optional monitoring
The monitoring of each and every PV string with the open ModBus RTU RS485 protocol ensures the optimal performance of the photovoltaic system.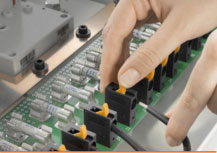 Smart design and high quality
PV SMART combiner boxes are ready to connect. Our products undergo testing in accordance with IEC 61439-2 and other standards to ensure quality.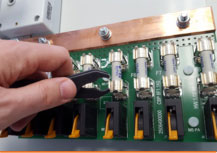 Easy fuse extraction
Designed with particular attention to detail and in close collaboration with customers to ensure maximum safety and easy handling.