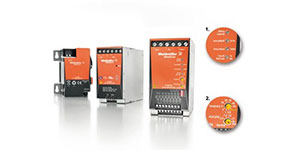 Safe power supply for automation bridges mains failures for up to 30 minutes at 40 A.

Weidmüller's uninterruptible power supply (DC-UPS) means highly available 24V power supply for automation. A reliable DC-UPS avoids costly machinery and system downtime and keeps safety functions, process controls and communication up and running for a defined period of time. The maintenance-free buffer module is perfect for momentary interruptions in the range of several 100 milliseconds; depending on usage, customers get a lifetime of up to 10 years from the device. The UPS controller in connection with a battery module bridges longer mains failures safely and reliably. This module provides power up to 40 A for 30 minutes or 1 A for 30 hours, depending on your needs. The temperature-compensated charging feature ensures a long battery life. Five finely graded battery modules between 1.3 and 17 Ah ensure custom-fit usage. The Weidmüller DC-UPS can be installed adjacent to each other, so they take up only 66 mm of width in the cabinet.
Weidmüller DC-UPS: The uninterruptible power supply bridges mains failure of up to 30 minutes at 40 A. Detail 1: The charge, status and error indicators facilitate quick error analysis. Detail 2: Different types of operation guarantee the optimal utilisation of battery power and flexible usage.
TÜV certification and the upcoming cURus, cULus approvals facilitate the use of these products around the world.