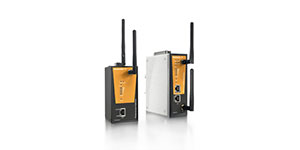 High-speed Wi-Fi devices according to IEEE 802.11a/b/g/n standard

The networking of machines and systems via WLAN is becoming increasingly important. Weidmüller Wi-Fi modules are designed to meet industrial standards with regard to operational safety, electromagnetic compatibility, and mechanical loads in harsh industrial environments.

The Wi-Fi devices support the functions access point, bridge, and client. They can be used to implement typical applications like connection of a Wi-Fi client to an access point, the connection between wired networks (bridging), or the integration of a cable Ethernet component into a Wi-Fi network (client function). The IEEE 802.11n technology is future-proof as it achieves transmission rates of up to 300 Mbit/s. All devices are backwards compatible with 802.11a/b/g systems.

Your special advantages

• Flexibly usable as access point, bridge, or client
• Future-proof data transfer rate up to 300 Mbit/s (IEEE 802.11a/b/g/n-compliant)
• Adjustable frequency range (2.4 or 5 GHz)
• Fast turbo roaming
• International approvals